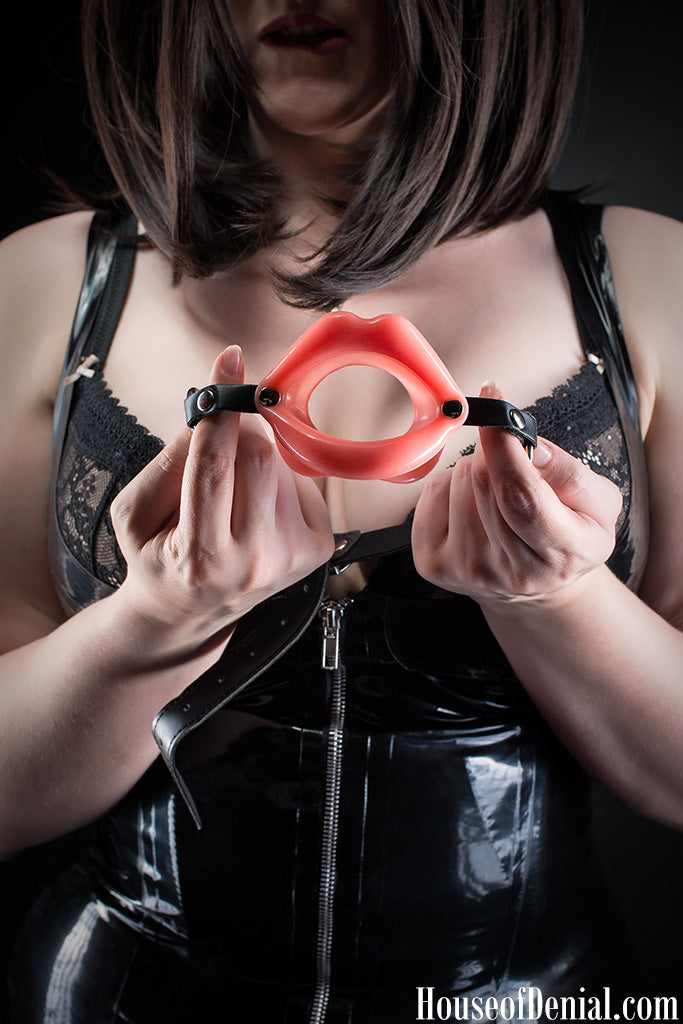 This is part 1 of our double Femdom and forced bi story. A link to part 2 can be found at the end.
Everyone involved in this story is a consenting adult over the age of 21.
Locktober is always a time of year that I look forward to. Enforced chastity for a month helps me in many different ways including a renewed focus in all aspects of my life and being able to serve a goddess who controls my orgasms. My Mistress and I get the opportunity to play together a couple of times a month, but when October rolls around I make sure that my calendar is much clearer to ensure I'm able to serve Her on a more regular basis. She demands this of me and I'm only too happy to oblige.
The first few weeks of Locktober this year were going very smoothly and the teasing text messages I'd receive between play sessions were a filthy reminder of what I was missing out on. Occasionally Mistress would send me a picture of Her wearing a lingerie set or a latex outfit with a gorgeous pair of very high heels before she sessioned with another slave. She also sent me a video of Herself in the mirror showing off her latest purchase; a skin tight black latex catsuit and a pair of shiny patent leather high heels. Her caged cock twitched uncontrollably every time I watched it.
Two weeks into Locktober I received a text message on my phone. "Arrive at the dungeon tomorrow evening at 6pm. I have company and you'll be joining us. Aren't you lucky?"
"Thank you Mistress" I messaged back. I'd never sessioned with anyone else before, though it had been discussed. Was it another Goddess that would be joining us, or maybe another slave? I'd find out soon enough and the excitement I felt built over the next 24 hours. To keep my mind and body occupied I went out for a run and got on with some overdue house work. Every time I managed to suppress my filthy thoughts another message would come through on my phone counting down the time and something to tease me.
"18 hours to go. Currently lying in my bed after a short session playing with the key to my caged cock. Think I'll get my vibrator out and get myself off. Such a shame you can't do the same."
I read a book in bed to help send me to sleep. Anything that I could do to distract me and help me to sleep. Each time I turned to see my phone charging on the table next to me it reminded me of the messages I'd received throughout the day. Delicious thoughts crept into my mind and Her cock engorged the cage hanging between my legs.
I finally fell asleep after an hour of reading and my heart racing at the idea of the session I'd be participating in the next day.
I woke up at 6am to my alarm going off beside me and rolled over to the sound of a text message alert.
"12 hours to go. I hope you got some quality sleep last night. You're going to be my fuck toy later. We have so many plans for you, you lucky boy. Don't be late as there's much to do."
My heart thumped as I got out of bed to get ready for work. We! What did she mean?! It still wasn't a good indicator if that meant another domme or a slave. Still, I was very excited and bounced around my room getting ready for work. Another text alert sounded on my phone.
"One more thing. Put on your black lace thong, stockings and suspenders under your work clothes. I expect a picture every hour while you're at work verifying that you have them on."
None of my co-workers know about my dirty little secret and it was always a huge thrill wearing something that Mistress had instructed me to under my work suit. I quickly got the lingerie out of my draw full of kink kit, clothing and toys and put them on making sure that the sheer stockings didn't ladder as I rolled them up my legs.
With an extra hop in my step I walked into work and took the pictures Mistress had requested in the toilets throughout the day. Each time I sent a picture I received a "Good slave" message in response.
At 4:30pm I walked out of work to head home and shower before going to the dungeon for 6pm. I practically ran home in anticipation to get ready and make sure that I was exactly on time, not wanting to incur any punishment for a late arrival.
Once home I douched my tight arse to ensure I was clean, showered and cleaned my teeth. I checked my phone upon walking into my bedroom and read the new message Mistress had sent.
"You'll wear the same underwear that you wore today, but this time you won't wear anything except a coat over the top. Everything else is here waiting for you. Once you arrive hang your coat up and kneel on the floor waiting for me. Understood?"
"Yes Mistress" I replied.
I picked out a long black coat from my wardrobe and decided to get a taxi to the dungeon, which isn't far from my house, but I didn't want the humiliation of strangers seeing me in my stockings under the coat. I called a taxi and we arrived at the dungeon 5 minutes early. I let myself in, hung my coat up as instructed and knelt on the hardwood floor in the dark corridor that leads down to the dungeon entrance door. The red light above my head in the corridor bathed me in soft light that glistened on the stockings covering my thighs. With each second that passed my heart rate continued to climb and the sudden sound of a flogger impacting behind the door at the end of the corridor startled me. Two female voices talking with each other and laughing drove me wild. Mistress had another domme with her. A double domme session! A lasting fantasy of mine that I'd discussed with her before. Christmas had come early.
The dark wood door at the end of the corridor opened and my Mistress appeared in the entrance with my thick leather collar in her hand. She wore the skin tight black latex catsuit that she'd recently purchased and it looked incredible on Her. Her muscular arms and legs were accentuated by the material and her cleavage teased me between the zippered opening at the front. Her black platform high heels clicked on the floor as she approached me. I could feel my blood coursing through my entire body and my knees began shaking in anticipation.
"Right on time" she said as she stood before me. I raised my chin and looked at her smiling. Her smile is incredibly infectious and I beamed with joy in response. She knelt down with her knees apart and fixed by collar around my neck. She then ran her hands over my stockinged thighs, up my bare chest and around the collar to ensure it was tightly secured.
"Stay exactly where you are. I'll be back for you in a moment" she announced before rising up, turning around and walking back through the dungeon door, closing it behind her. The muffled sound of Mistress talking to the other person in the room again drove me wild. This was a huge moment for me as I'd only served one Mistress before this day. She was the only person to see me dressed in lingerie and the thrill was very exciting. Someone else would get to know my dirty little secret. I trusted Mistress implicitly, so if she decided it was the right thing for me, I knew that I was safe.
The door to the dungeon opened again and Mistress approached me with a shiny metal leash hanging from her right hand. It clinked as she walked and it was fixed to my collar once she arrived at my knelt position.
"Now, crawl on our hands and knees behind your Goddess. You will do exactly as you're told tonight. No questions. The moment you crawl through that door you're mine to do with exactly as I please. Isn't that right slave?"
"Yes Mistress" I replied.
"Correct answer. I've been thinking about this for a while and this glorious opportunity is now going to become a reality. I've wanted it for a long time and now you're going to be my fuck toy for the night. I hope you don't have anything to do tomorrow as you might be here for quite some time."
"Anything for you Goddess" I eagerly responded.
"Follow me" she purred as she turned and tugged on the leash toward the dungeon. I crawled on my hands and knees, mesmerised by her heels leading the way in front of me.
Mistress's dungeon is a well equipped play space with lots of different toys, suspension points, furniture, cages, a wall of high heels and boots, a wardrobe full of latex outfits, whips of many varieties hung up on hooks along one wall and a large wooden St Andrews cross at the back of the room. The dark walls provide a very intimate feel to the space despite its large size.
"Eyes on the floor. You will not look at anything except the floor unless you're given permission" Mistress ordered. I did as I was told and lowered my gaze to the floor as I crawled into the room. The swish of a flogger impacting on something almost caused me to divert my eyes, but I remained disciplined and kept looking down to the floor. A harsh tug on my leash directed me towards a dressing room to the left of the main entrance door. I crawled inside and the door was shut behind me.
"Stand" I was instructed. I did as I was told without hesitation.
"I've picked out what I want you to wear for this session. It's all hung up in the wardrobe. Once I leave the room you'll read the note that I've left for you in the envelope on the table over there. Follow the instructions laid out in it exactly."
"Yes Mistress" I replied, keen to see what she'd selected for me from the extensive choices at Her disposal.
"Knock three times on the door when you're ready and I'll come and get you."
"Yes Mistress" I again replied, a wide smile beaming on my face. I was ready to please Her in any way she demanded. Little did I know what she had in store for me that evening.
My Goddess walked passed me, lightly stroking her left hand across my naked chest. She reached around from behind me and released the leash from my collar. The door behind me closed and I stood alone in the dressing room, a floor length mirror reminding me on the filthy fuck toy I am presenting me with a reflection of my lingerie clad body.
I carefully opened the envelope, which was perfectly placed in the centre of a glass coffee table slightly to the side of the room. In beautifully handwritten text the note stated the following:
"To my fuck toy,
Tonight, like all sessions, will be all about my wants and desires. I've thought about this evening for a number of years and tonight I will finally get the chance to live out this fantasy with you. You'll do exactly as you're told and this will please me immensely.
Our standard safe words and colour system is in effect from this moment. If you need to stop, say red. If you need to slow down, say amber. Green gives me the all clear. You know your safe word if you need to stop everything at any point.
Look in the wardrobe and you'll find the outfit that I've selected for you this evening. Put it on along with the shoes then knock on the door three times to indicate you're ready.
Your Mistress
x"
I placed the note carefully on the table and opened the wardrobe to reveal the outfit I would be wearing for the evening. Hung up on a coat hanger was a black latex catsuit, a black latex hood with eyes and a mouth holes cut out of it and a pair of black pointed high heels. My knees nearly buckled as all of the blood in my body surged towards Her cock. With the cage firmly locked to it there was no chance of me getting an erection, so I quivered with delight inside.
I took a small bottle of dressing aid from a shelf in the dressing room and placed it on the table. After carefully removing the underwear, stockings and suspender belt I covered my naked body in a thin layer of dressing aid and proceeded to slide my way into the catsuit. It fit perfectly and hugged my body in all the right places. I couldn't help checking my latex ass out in the mirror and hoped more than anything that my Goddess would delight in the sight I was looking at in that moment. A four way zip ran from the neck all the way round to the small of my back, which allowed for it to be opened exposing my ass. It also didn't cover my hands or feet, so they were free to be used if desired.
Next up I unzipped the latex hood, pulled my hair back and fit it over my head. This was the first time that I'd ever worn one and the enclosed sensation was surprisingly calming. I worried that I might feel a little claustrophobic, but I didn't panic and instead it felt fantastic against my skin. There were nose holes for breathing and I calmly zipped it up at the back of my head.
Finally I sat on a leather sofa next to the coffee table and slid the black shiny high heels onto my feet. I stood and checked myself out in the mirror again. That was a massive thrill as I looked like an anonymous fuck toy, indistinguishable as all of my features were covered and ready to be used for Her pleasure. I was ready to be played with and my heart pounded.
I totted forwards towards the door in my heels and knocked on the door three times. In my eager state I barely paid attention to the noises coming from behind the door, but the crack of a bull whip cut through my focus and filled me with joy. The door slowly opened.
Mistress stood with Her hand on the door knob in one hand and the leash in the other. She looked me up and down and a wide smile grew across her face.
"That's exactly what I hoped for. I can't wait to see what we have in store for you slave. Now, eyes to the floor and follow me" she said as she attached the leash to my collar before turning and walking into the dungeon. I followed, placing one heeled foot in front of the other as she'd taught me to. The temptation to look up and see the other Mistress in the dungeon room was overpowering, but I tempered the desire and did as I was told, fixing my gaze to the wooden floor.
"Doesn't he look delicious" Goddess said.
"Well well. We're going to have fun with this one tonight" the other Mistress replied. I didn't recognise Her voice and I lapped up the positive attention with glee. I uncontrollably smiled as I continued to walk forwards passed a spanking bench and a large metal cage.
"Stop" I was instructed, which I did and brought my heels together so I stood firmly upright and to attention. I clasped by hands behind my back and awaited my next instruction.
"I think I'll warm him up before we get them acquainted" Mistress said and tugged my leash towards a metal cage I'd been placed in for a previous session. On one side of the cage it had a hole for me to place my head through so that Mistress could use me locked in place, helpless to move or resist.
Once we reached the cage Mistress locked a set of leather cuffs on my wrists and ankles then seemed to change her mind, instead pulling me towards some metal stocks.  She lifted the metal frame open at the top, pushed my head between the opening then did the same with my wrists. I didn't resist in any way and the top was then pulled down locking me in place. My ankles were locked to the floor plate with metal clips with my legs spread apart. I felt completely helpless, which is where I'm most comfortable in Mistress's presence.
The click of my Mistress's heels on the floor towards the wall where she hung her whips and impact toys was a sign to start controlling my breathing and settle myself in preparation for a flogging. She returned after a minute with two floggers hanging from her wrists. That moment when she walks behind me always drives me wild with anticipation and this occasion was no different. She ran her hands softly across my latex clad arse and spanked me a few times. It felt a little softer than usual with the rubber material covering me, but the sensation was still something I'd craved since my last visit.
A few metres behind me a whip cracked followed by infectious laughter. The other Mistress in the room was either testing her skills or playing with someone else, as nothing had impacted on me. At this point I still had no clue what was to come, but I was looking forward to whatever it was.
Mistress warmed my tight arse with some light flogging across both arse cheeks for around 10 minutes, increasing the severity of the strikes over time. At one point she had both floggers working in tandem and the feeling was electric. All that I focused on was my steady breathing and the pleasure that came with the impacts worked their way through my body. I started to feel my body and mind floating and it took a harsh crack from a bull whip to snap me out of it. The laughter I heard earlier emerged again, a good indicator that it was caused by the other Mistress. My Goddess walked around the side of the stocks and stood before me. Her eyes locked onto mine and she held my hands in Hers. I felt completely safe and relaxed. The bullwhip snapped my arse again and I yelped out in pain. Mistress tipped Her head to the side and looked disappointed in me.
"I don't remember giving you permission to say anything slave" she hissed with disdain. She quickly turned on Her heels and retrieved a red shiny ball gag from the wall in front of me. I tightly closed my eyes and yelped again when the whip lashed against my buttocks without warning.
"Very disappointing" she snarled as she stood in front of me, thrusting the ball gag between my teeth and aggressively locking it in place behind my head.
"If you can't keep quiet by yourself I'll just have to leave the gag in" she said with a grin as the bull whip lashed my trembling arse.
"May I?" the other Mistress asked and my Goddess nodded to acknowledge her request. I felt a hand rest on my lower back and slowly pulled the zip on my catsuit down between my legs. It smoothly unzipped down below my arse cheeks and stopped at my stomach. I kept my gaze fixed firmly on my Goddess and still had no idea who hand their hands on me. She spread the latex between my legs open revealing my puckered arsehole and swollen balls below the locked chastity cage.
"My my. When was the last time he was milked?" the other Mistress asked.
"I haven't milked him yet this month. I don't think he's done enough to deserve it yet. Besides, if he earns it today it might be a nice reward later. So far I don't see it happening but he has plenty of time to please us yet."
A warm hand ran over my exposed arse and reached between my legs lightly feeling my swollen testicles. This was the first time I'd had anyone feel them in over 2 weeks. My Goddess chose not to touch me during our sessions during Locktober and I urgently craved that attention. I couldn't help but moan with pleasure, but that feeling immediately evaporated as the warm fingers gripped my sack and squeezed them. The pain was short but excruciating and I cried into the gag.
"What did I tell you about making noises without permission" my Goddess shouted before slapping me hard across the face. A few tears escaped my eyes and rolled down my red cheeks. This seemed to please my Goddess and she licked them off my face, revelling in the joy of my pain.
"Come and see what you've done to him" my Goddess said. Heels clicked on the floor next to me and I finally got to see the other Mistress in front of me.
Mistress P is a blonde Goddess who stood before me wearing a latex corset that attempted (and failed) to constrain her ample bosom, a black latex knee length skirt, latex stockings, latex gloves and a pair of glasses. She is stunningly beautiful and my embarrassment as the tears continued to roll down my face made me drop my eyes towards the floor.
"Well isn't he a sight to behold" Mistress P glowed as she placed her latex covered hand under my chin and forced my eyes towards hers.
"Mistress T has told me all about you and has been very complimentary of your servitude to Her. We decided that tonight was the right time to see just how committed you are to Her and with my assistance we'll see just how far we can push you." I nodded to acknowledge what she'd just said.
"No point in nodding. We're going to use you for our own enjoyment. I really don't care if you enjoy tonight. I'm going to have a lot of fun with you and that's all that matters. Isn't it?" I nodded again.
"Good boy. Now, would you like to begin with our little surprise Mistress T?" Mistress P asked.
"I'd love to" she replied and both Goddesses walked away from me still locked in the stocks, the clicking of heels reverberating around the room as they moved further way. Then, silence. It was an eerie feeling, but one that gave me a moment to gather my thoughts and get very excited. What did they have in mind? A million ideas raced rapidly through my head and the ache between my legs grew as Her cock bulged against the confines of the chastity cage.
You can read part two of this story here.
If you don't already own a chastity device or you're looking for a new one you can see our excellent range of cock cages.