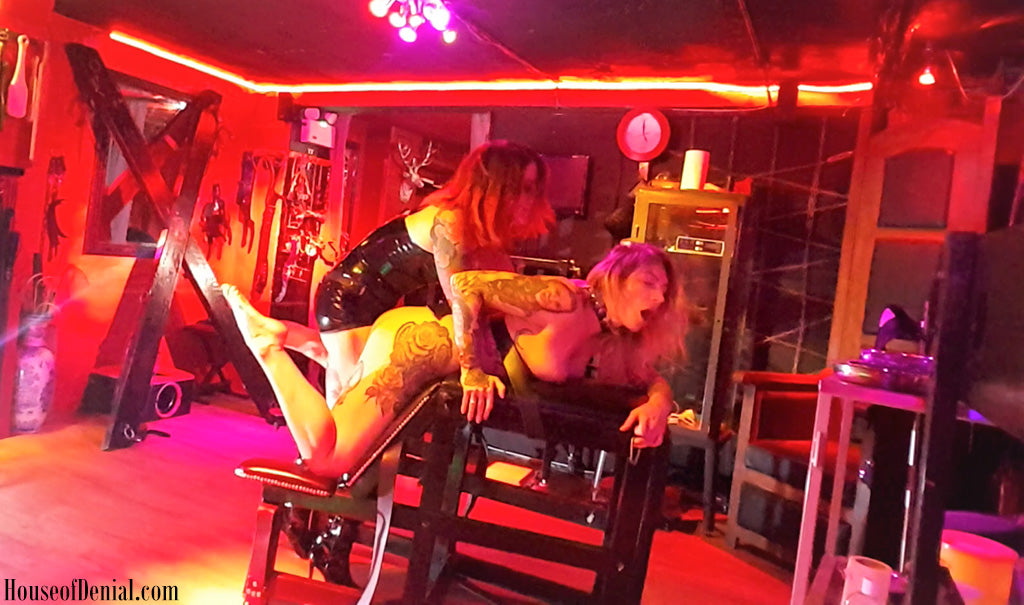 Mistress K has returned, you lucky meagre mortals, and even better - I'm here to talk porn to you again. I've subjected poor Slave D to sit at my feet, caged and attentive as we watched porn again to review for you lovely people. Whilst it's not chastity porn, it does feature one of our favourite female dominants - Adreena Angela and if you read our previous review here, you'll know that we're firm fans of her work. Also, here at the House of Denial we believe in the fair and equitable treatment of all sex workers including fair payment - so if you are able to, pay for your porn! Support your local sex workers, that includes everyone from escorts to cam girls/boys to Dom/mes.
Before we start the review, let's get the nitty gritty disclaimers out of the way, shall we? We are in contact with Adreena and have collaborated with her on certain projects, however we have paid for her clips out of our own money and the opinions within this review are all my own.
Now, I've briefly extolled the virtues of porn before but let's get into it a little…deeper here, shall we? When I was younger - before I was Mistress K and I was a little chit of a girl, hitting those first flushes of puberty, porn was something taboo and whispered about. Boys snuck into school with images of page 3 girls that they found in bushes, you were mocked if you didn't understand the terms of strange sex acts (the "angry pirate", anyone?) and as the prominence of the internet erected itself firmly in all our lives, how often we heard the refrain of "the internet is for porn."
Oh how things change and oh how much they stay the same!
Now, in these days, was there much consideration of women watching porn?! Good god no! As Peggy Orenstein powerful states in her TED talk "What Young Women Believe About Their Own Sexual Pleasure" (which I urge everyone to check out); "while young women may feel entitled to engage in sexual activity, they don't necessarily feel entitled to enjoy it." This was a lot of my experience of sex and porn during my adolescence years and early twenties.
Luckily Mistress K caught up with the rest of the world and soon delved headfirst  (or, well, hand first) into the boundless oceans of porn and self-pleasure. And oh my, what oceans they were. I spent heady days during my university career reveling in the enjoyment of my own body and the joys of my Rampant Rabbit, on a journey of exploration and curiosity. And during this time, I found a fixation - nay, almost an obsession in watching lesbian porn. Maybe, as I found myself thinking after watching Peggy's TED talk, it was because I spent so much time disregarding my own pleasure, that I was making up for lost time by watching women enjoy themselves during sex. And because the majority of heterosexual porn is filmed through the male gaze so sex is done "to" women, as opposed to them being eager, willing, feisty participants. Obviously this is a massive generalisation and there is exceptionally good straight porn out there, but that was a process to find as opposed to those swathes of porn which is good old filthy fucking with a healthy dose of degradation in it. 
So every now and then, when I'm not in the mood for a quickie with myself and slave D is rather inconsiderately not around to service my every need, I like to take time to myself, lounge in bed with my laptop and go searching for new and exciting porn to watch, to plump and swell my heaving favorites list and to luxuriate in my own body. During these blissful, horny days, it is the lesbian porn that I love to start my sessions with.
So how did this clip of Adreena and Ava Austen hold up against my favourites
Unsurprisingly no one, Adreena and Ava are very, very good at what they do and this clip is no exception. In an interview on XConfessions, Adreena nailed it when she said "I'm so bored of trying to find porn that doesn't make me roll my eyes."
For those who aren't aware of her, Adreena Angela is a London-based domme whose domination comes from a place she calls Erotic Empathy. As she states on her website, "I love taking my slaves on a journey of sensual discovery. Many have experienced shame for their desires. I believe that the antidote to shame is empathy, and my gift to you is Erotic Empathy. My role is to help you embrace your sexuality and thrive in the pleasure and freedom I give you." In this clip, she shares the screen with Ava Austen, an English self-described "porn slut" and AVN, XBIZ Award Nominated Adult Actress.
Our 12 minute clip begins in a red room, filled with an assortment of toys and treats for naughty subs who need to be punished. A St Andrews Cross stands on one side of the room, on the other is a giant Worship chair, like a medieval throne. Toys, electro stims, harnesses and more are hung and displayed throughout the room. Right in the middle of the room is a dark wood and red leather spanking bench, with long leather straps and carabiner hooks attached. As the video starts, trip hop lilts through the background of the scene - heavy bass notes under a winding, ethereal melody.
Adreena slinks into the frame, wearing a black latex dress and black boots, leading Ava into shot who is entirely naked except for a thick black leather collar attached to a choke chain. Adreena purrs filth about Ava being a good girl, Ava calls her mistress and they kiss. Let me tell you, they make a beautiful pairing to watch.
Ava is strapped and she wails and moans and growls her arousal through the video. She melts into every caress from Adreena and supplicating herself into the most submissive poses, gripping her own elbows or holding open her ass cheeks. Adreena has a voice like melted chocolate, and filth pours from her mouth during the session. She calls Ava her good girl, and tells her exactly what she's going to do to her.
Then, about half-way through the video, Adreena pulls on a harness with a dark purple dildo and we move into strap-on fucking. Ava enthusiastically and eagerly sucks and writhes and takes it beautifully during the rest of the video. There's a bit, just before Ava is penetrated by Adreena, where Adreena crouches down and asks Ava if she wants to be fucked whilst sliding her fingers in and out of Ava's willing mouth. The heat in their gazes is intimate and intoxicating to watch. Following this, Ava asks Adreena to choke her during sex and that was astoundingly hot to me. Despite some misconceptions of the Domme controlling everything during a scene, having a submissive ask or beg you for what they want is hugely sexy and awe-inspiring so I really enjoyed seeing that in this scene.
Something else that I picked up on the next time I watched the video with slave D was how visually appealing the whole scene was. I took a few courses in burlesque and my teacher, a formally trained dancer, always told us to "point our fucking toes" during routines and performances. So watching Ava constantly point her toes during this video brought our eyes along her subtly toned figure, over her tattooed hips and curves, all the way down and then up her legs to those petite perfect toes.
Also, as I mentioned earlier in the article, Adreena and Ava are very, very good at what they do. There's a notable difference in video clips available on the internet - from the purely amateur/home-cam stuff, to clips, to full scale pornography productions. And in this clip, Ava and Adreena know their strong points and how to use them to turn you on with a quirk of an eyebrow or the subtle flick of their hair. Adreena has a mastery of words, wrapped in the velvet of her voice that can make you weak at the knees. Ava knows how good she looks and how to present best to camera. Her facial expressions, her noises, how responsive she is during the video - it's intensely arousing, because Ava knows how hot she looks and sounds. 
All in all, as I'm sure that you've worked out, it's a winner of a clip from us here at House of Denial. How can you resist a strap-on video where the domme fucks so hard that she thrusts the bench across the space -  whilst the sub is still attached to said bench?! I'm sure if you check it out, you won't be disappointed. 
If we've done enough to whet your appetite, you can find the clip on Adreena's Only Fans account here or buy it and many others on iWantClips.
You can also find Mistress Adreena and Ava Austen on Twitter. Go and follow them for more fantastic content.
If you'd like to book a private session with Mistress Adreena you can do that via her website here.