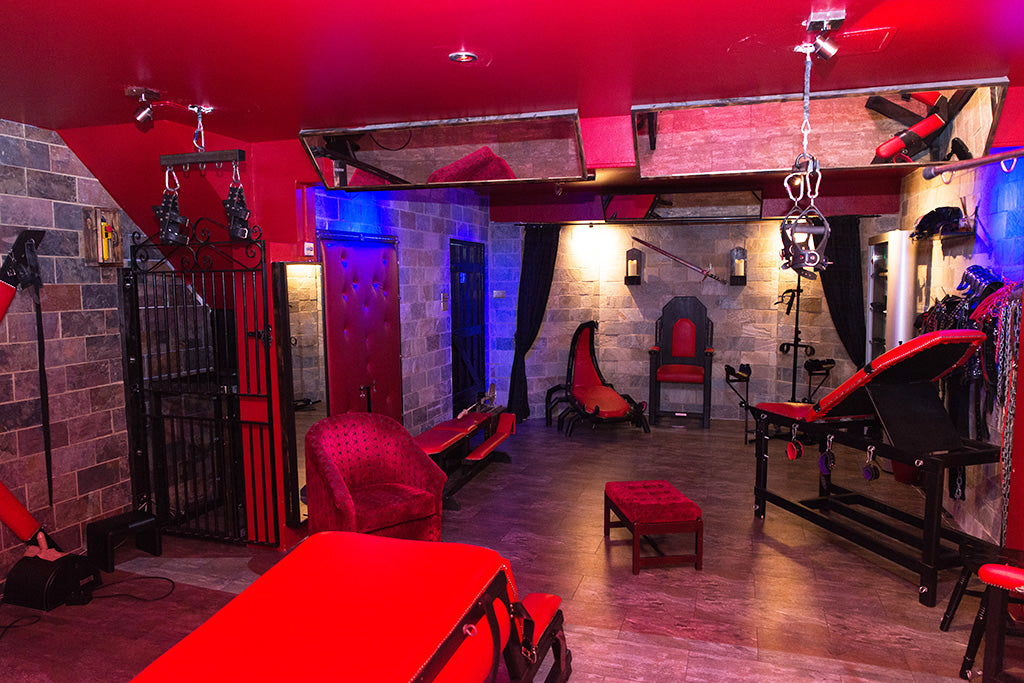 In November 2017 Mistress K and I took a business trip down to London for a few days. For a number of years we considered finding a BDSM hotel or dungeon we could say at overnight instead of playing at home or in a normal hotel. After a quick Google search we found the Secret Dungeon located in High Wycombe was only a short train journey from central London. The pictures of the venue on their website looked fantastic and the list of facilities and equipment were incredibly appealing. I emailed the venue and quickly secured a Sunday night stay after paying a deposit.
Pre-visit communication from the venue was good. We received a contact number before our visit and were told that the exact location of the dungeon would be disclosed a short time before our scheduled check in time.
On the day of our stay we spent some time in central London before getting a train from London Marylebone, which took around 40 minutes, though some trains can take 25 minutes. We arrived at High Wycombe station an hour before our 8pm check in time and decided to get a quick drink at a local pub just over the road from the station exit.
Just before 8pm the dungeon owner sent us a text message to confirm that it was ready for us and some simple directions to find it. After a short walk with our suitcase full of toys and kit in tow we quickly arrived at our venue for the next 15 hours.
From the outside the venue certainly lives up to the name. We walked passed it and and doubled back on ourselves to see a lovely lady waiting outside ready to show us around. A warm welcome greeted us, we introduced ourselves and we all quickly went inside.
The temperature outside in late November was quite cold, so I hoped that the dungeon would be warm. The moment we stepped inside all of my concerns disappeared as the warm, sizeable space immediately felt very inviting. A number of electric space heaters took the chill out of the room and quelled any concerns I had of being naked (aside from my caged cock) kneeling on the floor.
Within 10-15 minutes we were shown around the play space, the kitchen area and bathroom, given instructions on how to operate the outdoor hot tub, entertainment system and where to put any toys that we used so that they could be cleaned before the next guests arrived the following day.
Much like any hotel, towels and toiletries are provided as well as a few provisions in the kitchen area. Wine is available to buy for a small additional amount also.
Once we'd asked a few questions relating to the equipment and paid for our stay we were given the keys and locked the front door when our host left.
The dungeon space is fantastic and is very well equipped with some sturdy kink furniture and a huge selection of toys ranging from impact toys to a glass cabinet full of dildos and plugs. The bathroom has a wardrobe full of uniforms, outfits and footwear, though we packed a suitcase full of our own. Condoms can also be found throughout the play space.
The dungeon space has a full length curtain that can separate it in two. On one side of the curtain is all of the play equipment and on the other you'll find the large four poster bed (with stocks at one end for your wrists or ankles and head) with a large mirror above it, a TV and audio kit.
After looking around the dungeon space and checking some of the BDSM equipment we unpacked our own kit, selected a number of toys from around the room and both started to get ready for our first play session of the evening. I'll write and post a few stories about our play sessions on the blog in the near future, but for now I'll stick to reviewing the venue. Needless to say we had two incredible play sessions during the evening and early hours of the morning.
The extensive array of kit available for you to use during your stay includes a wall mounted St Andrews cross, a cage, bondage bench, impaler, electric and manual hoists, queening box, a throne chair, a leather swing, a sybian and a fucking machine with attached dildo. There's much more and a more extensive list can be found on the Secret Dungeon website.
Between play sessions we took a quick shower and a dip in the outdoor hot tub, which was a blessing and a curse. After a long weekend of work we were both quite tired and the warm bubbles in the hot tub almost stopped us getting into our second play session, but we powered through the tiredness and made it work. The hot tub area is fully covered so you can head out rain or shine and you're also able to smoke in this space in complete privacy.
After a very comfortable night's sleep in the four poster bed after a memorable evening of play we woke up refreshed (and a little sore). We showered, packed our suitcase and put any toys that we used from the venue in the dropbox. Our checkout time was 11am, which was plenty of time to get ourselves washed and changed before leaving to get our train back to London.
The Secret Dungeon was excellent value for money considering the space, facilities and equipment that's available to use there. The price (as of November 2020 according to their website) for an overnight stay is £270 Sunday to Thursday or £320 for Friday and Saturdays. They do offer special discounted prices from November to January, with Sunday to Thursday charged at £240 a night or Friday and Saturdays for £290 a night. These prices are based on 2 people staying, but you can pay £20 per additional person if you'd like to make it a group stay. You can also hire the dungeon by the hour through the day with a minimum of 4 hours for £140 or only £170 for 7 hours. We recommend keeping an eye on the prices page as some discounted offers do appear if you're looking to save some money.
We both wanted to mention a few things regarding etiquette when staying in a BDSM hotel or dungeon that has equipment and toys for you to play with. Please make sure that you use condoms on all insertable toys like dildos and plugs then put the used condoms in a bin after you remove them from the toys. Don't flush them down the toilet. Spray and wipe down all equipment with antibacterial spray after you use it. Most venues will provide this for you and the Secret Dungeon is no exception. Neatly pile all used towels inside the shower cubical or bath tub so that it's easier for the owners or cleaners to remove them and get the venue ready for the next guests to arrive. Put any rubbish you make in the bins provided including food waste. Simply put, don't be a dick and take care of the place while you're staying there.
In conclusion we'd both highly recommend the Secret Dungeon if you're looking for a fully kitted out dungeon space to play in away from home. Next time we're going to pack much lighter as many of the implements and toys that we packed and took with us were already hung on the walls and available to use.
Book your stay at the Secret Dungeon here. If you do end up staying there we'd love to hear how your stay went. Please do leave a comment below and let us know what you got up to.
One final thing I wanted to add to this. Please don't email us asking to book your stay at the Secret Dungeon. This is a review of our stay, not an advertisement for the venue. You need to visit the venue website and contact them to book your stay. We've received numerous requests to book the venue and we can't help you with that. Please contact them directly.