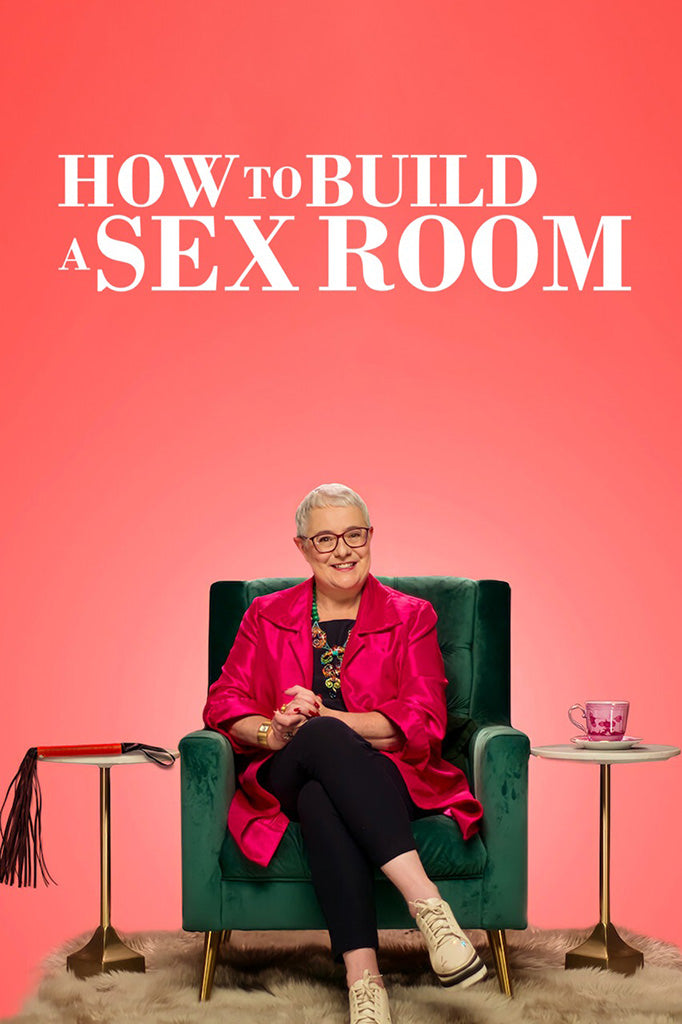 When I saw the trailer for the TV show "How to Build a Sex Room," I was immediately intrigued. Already an avid fan of interior design shows, the added sexual and/or potential kink elements piqued my curiosity and I knew I had to watch it. The show lived up to expectations: somewhere between DIY makeover and a how-to guide for spicing up your relationship, it manages to do both and then so much more.
The show's host and sex room design guru, Melanie Rose, takes a variety of clients through the process of exploring and realising their desires and then devising a private, bespoke space for them to live out their fantasies.
A mixture of Grand Designs and Queer Eye, "Sex Room" gives us elegance and innovation, those all-important makeover reveal moments and points of genuinely touching intimacy, revelation and discovery between clients. Melanie Rose takes her clients on a journey to discover more about themselves and each other as they open up to her about their fantasy space.
"A sex room can be anything from a sumptuous bedroom to a dungeon under the stairs [...] But when I design them, they can be beautiful, they can be fantasies, they can be anything my clients desire."
Image courtesy of Netflix 
Using a bag of sex toys, riding crops and floggers as a barometer to get a feel for her clients' desires, the show brings kink firmly into the realm of common sexual or intimate practices. Melanie clearly advocates an explorative and inclusive approach to kink: no longer is the St Andrew's cross or spanking bench likely to only be encountered in dungeons.
For some couples, such as Taylor and Ajay (episode 1), this is a dream come true! Melanie introduces them to a professional dominatrix who teaches Ajay how to flog Taylor safely, which personally I think is a wonderful touch, particularly as they focus on consent and communication throughout. However, I did have moments of cringe when it became apparent that other couples just wanted something a little luxurious and Melanie was still determined to sneak in a St. Andrew's cross.
Image courtesy of Netflix 
The phrase 'sex room' evokes something very personal for me, which is bound to vary from person to person according to taste. The challenge of divining a couple's desires and creating a space to enact them is what Melanie thrives on and I thoroughly enjoyed the variety of styles showcased throughout the show.
"From a secret rock 'n' roll dungeon to a next-level spa, designer Melanie Rose dreams up erotic renovations for couples in this spicy reality series."
Image courtesy of Netflix
I particularly enjoyed the variety of couples brought onto the show, all of whom daringly bared themselves to the world - figuratively, not literally; the show is quite modest in terms of nudity and sexual content. It definitely takes a level of bravery to share your likes, dislikes and sexual fantasies for an audience of potentially millions of people. Homeowners included a wide variety of relationship styles and professions, from a polyamorous group to a police man, the inclusivity of people involved was more than I had anticipated, showcasing perspectives that most viewers could relate to.
Image courtesy of Netflix
So, the ultimate question: Is it worth watching?
For me, I'd say definitely. It's a fun and quirky idea for a TV show and as long as you can overlook the cringeworthy euphemisms and Melanie Rose's over-enthusiasm for butt plugs in every home, I think it sparks interest and made me consider what I'd like if I were to build my very own sex room at home.
Some things I would have appreciated throughout the series include the price of certain items. It's hard to find a home renovation relatable with no concept of the budget involved - are we talking in the $1,000 or $10,000 price range for a wall of floggers? As the saying goes: if there's no price tag, you probably can't afford it - and that immediately puts me off. 

Image courtesy of Netflix
It would also be nice if Melanie wasn't quite so kink-focused. Don't get me wrong, she's preaching to the choir in my direction but when tailoring a home to a client's fantasies it didn't always seem appropriate to bring kink into the mix. Take Meaghan and Dave for example, a couple simply looking for "a place that's not just kid-related. Our whole lives revolve around children so we would like a space that's just for us."
My final critique is that for someone who promotes herself as a kink connoisseur and advocate, I was frustrated when in episode 4, Melanie confused photographer for voyeur. As a photographer and videographer myself, I see the correlations but the reality and requirements of a space are very different. In the episode with the polyamorous family, photographer Arturo requested somewhere to observe his other partners in order to create films and images of them. Melanie assumed that to mean voyeurism in a completely detached way, going on to make a separate room for covert observation, be totally unsuitable for any kind of photography.
Image courtesy of Netflix
Overall, despite a few disappointments, I enjoyed it and found it brought me and my partners closer together. We each shared the things we liked or disliked about the episodes and I feel I've learned more about the people close to me through watching the show.
Image courtesy of Netflix
I'd love to hear your thoughts - do you have a favourite room or couple from the show? Has the show inspired you to build your own sex room? Share with us in the comments below or tweet us at @Mistress_Thorne and @HouseofDenial.