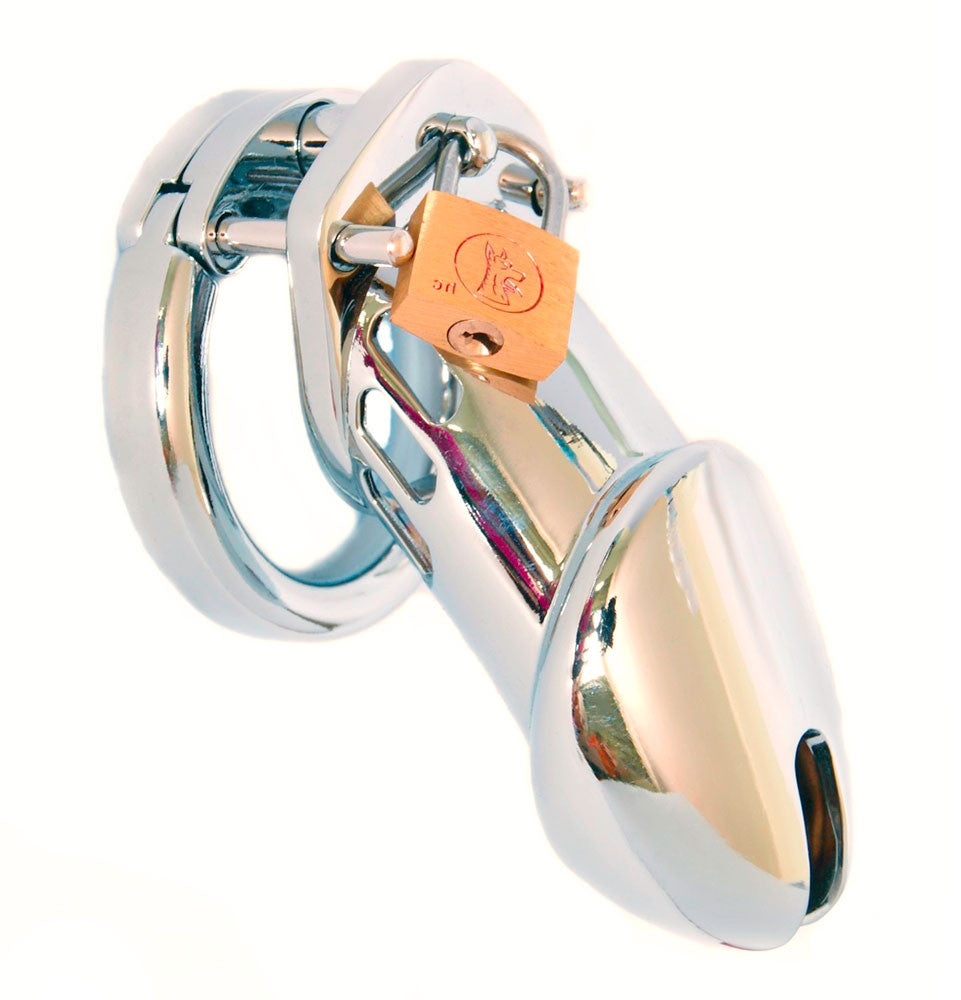 This is part 2/2 of our first male chastity and femdom story. Read part one here first.
The sound of the hotel room door closing sent fear coursing through my locked up body. The thought of being exposed to a house keeper with my cock caged, ass plugged, mouth forced open with the gag and the smarting bruises stinging my cheeks was humiliating. Mistress K loves to humiliate her slaves and she knows how much it embarrasses me. Beads of sweat ran down my face and I drooled uncontrollably onto the bed sheets. I was a hot mess.
A thousand thoughts raced through my mind. Did Mistress really ask housekeeping to come and service the room? What would the housekeeper think when they see me like this? How long would Mistress be away and when would she come back? With each minute that passed my heart beat rate slowed and I started to accept my fate. After an hour of struggling in my shackles, my tight asshole being stretched open by the locked plug and the muscles in my legs burning I soon got an answer to my questions.
The knock on the door made my heart sink and I started to shake. "Housekeeping" the female voice on the other side of the door shouted. I tried to shout but the gag muffled anything I could manage. Another knock was quickly followed by the beep of a key card unlocking the door. With my head pressed firmly into the bed sheets I couldn't see who had walked into the room. I waited for a scream or shouting, but instead I heard the click of high heels on the floor walking behind me. Mistress K had returned and she wasn't alone. A second pair of heels clicked on the floor towards the bed.
"Look at him. My not so obedient slut slave exposed for the beautiful Mistress T. I hope you've thought long and hard about your mistakes and won't be making them again. We don't want you to make Mistress look bad in front of her friend now do we?"
Mistress T is a stunning dominatrix friend of Mistress K. She's a tall, busty blonde goddess that towers over her slaves and practises strict disciple. It's easy to understand why Mistress K loves her as they're very alike. Having her see me like this was very embarrassing and my cock shrivelled up in the cage.
"They're some gorgeous bruises you've created on that plugged ass darling. I wonder if they're sensitive". Mistress T's sharp, manicured nails dug into the bruises and ran them down the back of my thighs making me cry out.
"Don't you dare move slave" Mistress K barked. "Do exactly what we say and you might just earn yourself a reward."
Both Mistresses walked over to the table in the corner of the room and picked up a number of the toys. The crack of whip made my balls tighten and took me by surprise. Mistress T had obviously brought her own bags of toys to use on me. Knowing what toys Mistress K had packed for her trip based on the picture that she'd sent me earlier that day somewhat prepared me for what was going to come. Now I felt unprepared, more vulnerable and my heart raced thinking about all of the possibilities. I could lie and say I didn't enjoy that state of mind, but won't; I loved it.
"I need to freshen up and change into my outfit darling. Would you mind giving me a hand?"
"It would be my pleasure" Mistress K responded with a smile.
Both of the Mistresses disappeared into the bathroom with the door left wide open. I could hear everything but couldn't see a thing. The shower turned on and the wardrobe door opened in the room. Coats were hung up, a bag was unzipped, clothes were thrown on the floor and a quiet moan escaped the lips of Mistress T as hands ran over her now naked body. Before stepping into the shower the Mistresses' lips locked and a much louder grown echoed in the bathroom thanks to Mistress K slipping her hand between Mistress T's legs. With each grown my cock twitched in the hard cage and and the anticipation of what was to come grew with every second that passed by.
Suddenly the bathroom door slammed shut and my imagination went into overdrive. What were they doing in there? Someone stepped into the shower and discussions were taking place behind the closed door. I couldn't make out what was being said and the downpour of water from the shower into the porcelain bath tub further hindered any chance of me hearing anything. After a few minutes the shower was turned off and silence again filled the room. My ass puckered and strangled the metal plug locked inside me.
The bathroom door opened and heels clicked on the floor towards me. Mistress K gripped my balls between her gloved hand and tied a long piece of rope around them. It took me by surprise but I maintained my position. Mistress slowly walked back towards the bathroom and shut the door.
"When Mistress T finishes getting ready and comes out here to play with me you're in for a very nice surprise slave. You'll do exactly what we say and if you dare disobey either of us the consequences will be very severe". I nodded my head and I felt the rope hanging from my balls go a little slack.
Two glasses were placed on the table behind me and a large bottle now sat next to them. A click of heels on the bathroom floor immediately drew my attention and I controlled my breathing. This could be a marathon rather than a sprint and I didn't want to disappoint the two goddesses.
"It's done darling" Mistress K shouted.
The door to the bathroom opened, but only a crack. The rope around my balls tightened slightly. Then the door flew open and the rope pulled harshly and I quickly realised what Mistress K had done. She'd tied the other end of the rope to the bathroom door handle. The pain was instant and my eyes watered. I screamed and a tear ran down my face. The Mistresses laughed and the punishment they'd inflicted on me.
"Should I close the door? Or should we leave him like this for a while?"
"As much as I love seeing him like this you'd better close it darling. I don't want to completely break him before I've had some more fun".
The bathroom door closed and the rope went slack. The drool patch on the bed had grown significantly and my balls were throbbing. I tried to swallow but the gag prevented it.
"It's time for you to treat us like the goddesses that we are, slave." Mistress K removed the chain from around her neck and unlocked the padlocks from the ankle cuffs attached to the spreader bar. "On your feet" Mistress K demanded. I slowly stood up and did my best to stand up straight on shaky legs. The plug in my ass forced me to keep my legs parted, which helped to maintain some balance. My head hung to my chest and Mistress K raised it by placing her index finger under my chin and lifting it up.
Stood before me was Mistress K in her latex and Mistress T wearing a beautiful black sheer lace bra with her large breasts and nipples exposed. A black lace sheer thong barely covered her shaved vagina, which was clearly visible through material. A gorgeous suspender belt and seemed black stockings attached to them covered her long, toned legs. She was wearing a shiny pair of very high black patent leather pointed stilettos with a thin heel. As my eyes connected with hers she raised her hands to her head and tied her long blonde hair in a high pony tail behind her. Having spoken with some of Mistress T's submissives in the past I knew that this was a sign she was ready for a hard play session. Seeing these stunning goddesses in front of me tested the strength of my cock cage as I was trying to get hard with no success.
A hard slap across my face from Mistress K's gloved hand quickly drew my attention back to her. "Remember who your Mistress is slave. You're here to please me. Mistress T is here to use you for her own pleasure. I've given her permission to use you in any way she pleases." I nodded my head.
"A nod of the head isn't necessary. You don't have a choice, slave. From what Mistress K has told me you lack discipline. I expect complete discipline from my submissives and won't tolerate anything else. Usually I'd dress you like a sissy maid, plug your holes and make you do my every bidding for a week, but you're Mistress K's submissive and we have other plans in mind. Fail to do exactly what I tell you and you'll be punished very severely. Get on your knees and bow down before your Mistress". In the back of my mind I was secretly thankful to take the pressure off my legs and I knelt down on the floor before them. "Good boy. Keep this up and you'll be rewarded with pleasure you could only dream of before today. Now, seeing as you've done such a terrible job of pleasing your Mistress I think it's about time that she was rewarded for having to put up with you. Watch and learn".
Mistress T walked passed me as I knelt on the floor and opened the bag that she'd brought with her. She returned with a vibrator, a strap-on dildo and harness. The cage between my legs strained to prevent my cock getting hard. Was this for me? I soon found out.
The two mistresses passionately kissed each other and Mistress T ran her hands through Mistress K's hair before moving them down the lacing in the corset to grope her ass. I was captivated by the beautiful mistresses making out in from me and rested my hands on my thighs to enjoy the show. Mistress T quickly noticed.
"Sit to attention, slave" she shouted. Mistress T grabbed some rope from the table and glided passed me. Mistress K looked mortified as her guest tied my hands behind my back. The coarse rope cut into my wrists and I straightened my back. Mistress T also attached a leash to my collar and gave the handle to Mistress K.
"If he starts to slump down give the leash a hard tug darling".
The mistresses continued to kiss and caress each other with their hands moving freely over their breasts and thighs. From my position on the floor I noticed Mistress T moving Mistress K's thong to one side and rubbing her fingers over her swollen clit. Mistress K threw her head back to look directly into my eyes and she groaned with pleasure. Two fingers disappeared inside her and she smiled at me. The strain between my legs made me feel helpless and very jealous just as Mistress tugged on the leash to assure I was sitting to attention.
"Why can't you give me pleasure like this, slave? You're useless. I don't know why I keep you around."
Mistress T removed her fingers, which were sticky with white fluid. She turned her back and walked to the table as Mistress K gripped the leash and lead me to the other side of the bed. She then got onto the bed on all fours with her head inches from my own at the edge of the bed. "I want you to see exactly what pleasure really looks like".
Mistress T turned and walked towards the bed with the vibrator in her hand. I suddenly noticed the long, fleshy coloured strap-on dildo attached to the harness strapped to her crotch as Mistress K rubbed her clit with one hand and the other gripped tightly around the leash handle. The buzzing sound of the vibrator brought a smile to Mistress K's face and she quickly gasped as it was pressed against her clit from behind. Uncontrollable shaking took over Mistress's body and Mistress T lifted her heeled foot onto the bed underneath the source of this gratification. Moments later a hard tug on the leash made me realise she was going to climax. Mistress squirted all over Mistress T's shoes and her face flushed.
"That's how you pleasure your Mistress, slave" Mistress T said looking straight into my eyes. "What a shame that you'll get nowhere near this beautiful vagina for quite some time". Maintaining eye contact, she walked slowly around the bed and removed the gag in my mouth. My jaw ached and I swallowed properly for the first time in hours.
"Bend down and clean my heels with your tongue, slave. I want them to sparkle again. Don't stop until I tell you to."
I leaned forward and Mistress T pulled on the rope cuffs behind my back, which forced my head down sharply. My tongue lapped up every drop of Mistress K's cum from the foot and heels presented before me and the taste reminded me of just how much I missed licking Mistress's cunt. She then sat on the edge of the bed and presented the heel of her shoes to me, which I took in my mouth deep into my throat while I ran my tongue around it. She then flicked the heel off and I licked every inch of her stockinged foot till it was clean as the mistresses kissed.
"Are you ready darling? I packed what you wanted in the bag."
"Thanks darling," Mistress K said and left the bed.
"Sit up, back straight and open your whore mouth nice and wide. You took that heel nice and deep but let's see if you can handle my cock." Mistress T bounced off the bed, gripped my hair in her hand and thrust her cock into my mouth. With my back against the wall and and my arms tied behind my back I had nowhere to go. With her heeled feet set firmly on the floor in front of me, Mistress T fucked my mouth and throat till I gagged and her cock was wet.
"I hope he's performing up to your usual standard," Mistress K said as she walked towards me with her strap-on cock dangling between her legs. Her bright purple silicone cock moved towards my mouth and Mistress T forced my mouth onto it. I then worked to pleasure Mistress's cock, bobbing my head up and down until it was soaking wet with my spit.
"He gives very good head Mistress K. I might ask to borrow him for a party I have soon. A few of the other Mistresses are coming over to help me with some of my sissy sluts in training. They could learn a thing or two from this cock hungry slut." This was music to my ears and a broad smile broke out on my face. "Don't get cocky, slave. You have a long way to go before you impress me. Get on the bed on all fours and don't make me wait." I jumped to my feet and got onto the bed with my legs spread.
"I knew plugging that tight ass would be a good idea. It should be nice and loose ready for our cocks."
Mistress K removed the chain from around her neck as Mistress T walked around the bed to my face. As Mistress K unlocked the plug in my ass I let out a gasp as she pulled the petals together and removed it. My ass still felt full and that feeling was soon going to be a reality.
"Suck my cock you filthy slut," Mistress T ordered pointing to her cock. I bobbed my head up and down and Mistress raised my chin with her hand so that our eyes locked. "I like for my slaves to see exactly how much I'm enjoying this." Her eyes looked over my shoulders and a wide smile greeted me.
"Deep breath," Mistress K said from behind me as she plunged her cock deep in my ass. I nearly gagged on the cock in my mouth but maintained eye contact with the goddess towering over me.
"There's nothing more beautiful than my hard cock fucking your ass, slave. Apart from Mistress T of course." With every thrust my cock pressed firmly against the sides and tip of the cage I was locked in. I quickly forgot about any pain it caused with every thrust pushing my Mistresses' cocks deeper and deeper into my ass and mouth. The Mistresses leaned into each other and their lips locked with their cocks sinking further inside me. The cock in my ass rubbed my prostate and an uncontrollable need to cum hit me.
"Please Mistresses, may I cum," I managed. Mistress T looked at Mistress K with a surprised look on her face
"Absolutely slave, you can cum." Mistress T smiled, pulled her cock out of my mouth and walked round the bed behind me. Mistress K slowed her thrusts and placed her hands firmly on my waist.
"Tell me when you're going to cum, slave. I have an extra special surprise for you."
"Yes Mistress."
Mistress T walked back around the bed and stood in front of me with a huge smile on her face. Did she like to see slaves cum by being fucked in the ass and wearing a chastity cage?
"Mistress, I'm going to cum."
"Cum, slave."
Just before I was about to cum Mistress T leapt onto the bed, gripped my swollen balls in one hand and pressed her other hand over my mouth. She squeezed her hand around my balls hard and I screamed into her hand as I came. My orgasm was ruined and the pain was excruciating. Both Mistresses laughed hysterically as I writhed around in agony. Mistress T released her hands once I'd finished and pushed my head down onto her cock again. It was covered in my hot cum and it quickly filled my mouth. Mistress K fucked my ass some more as I sucked on the cock in my mouth. It was utterly humiliating and tears flowed down my face with every thrust. Mistress T grabbed my hair and tugged it so I was looking into her eyes.
"I hope that will teach you to cum only when you're told to, slave," Mistress T said with a smirk. Both Mistresses pulled their cocks out of me and I collapsed on the bed. Mistress K untied my hands from behind my back
"Fucking you is tiring work, slave. Go and open the bottle of champagne on the table. Pour a glass for Mistress T and I." My legs were shaking and my balls ached. I crawled off the bed, stood up when I reached the table and uncorked the bottle of champagne. Both Mistresses got onto the bed and I served them their drinks.
"Good boy. Now lie on the floor till we're ready for you again."
"Yes Mistress."
It's important to note that all of the play discussed in this story was consensual.
If you're interested in chastity play and want to buy a male chastity device for your own play sessions we offer a range of kits made from plastic, silicone or metal on our store page. Prices start at £11.99 and postage is free if your order is over £20. Tracked international postage is available for a flat rate of £9.99.