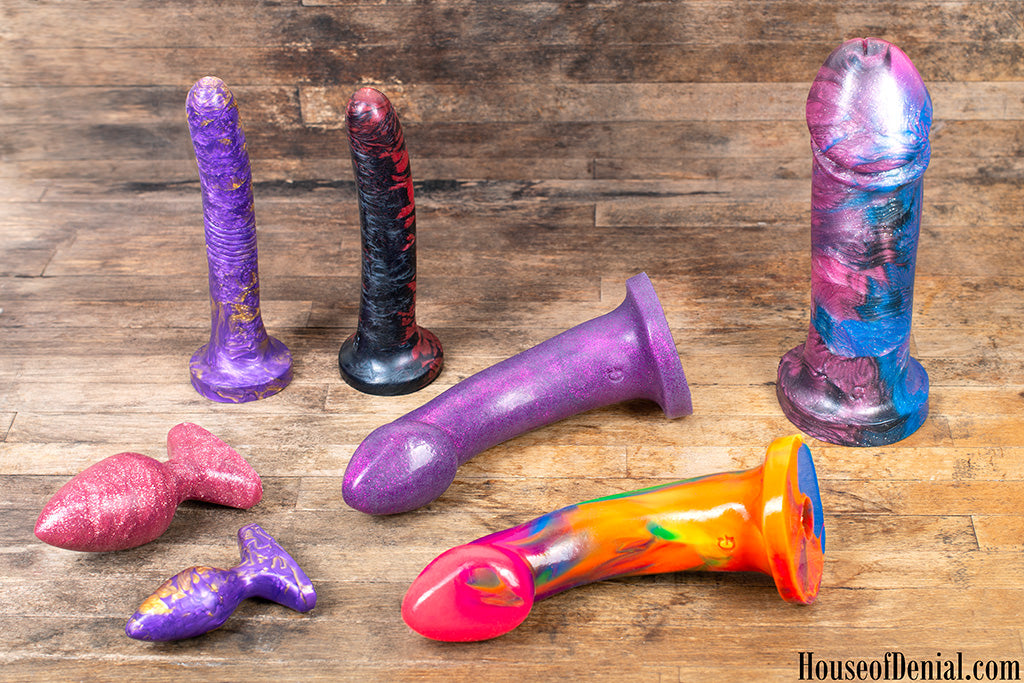 Hello again, my filthy friends - it's been too long again. As you might imagine, it's been an interesting time here at the House of Denial, as it has been globally. We've been extremely fortunate to be able to continue working during the COVID-19 pandemic and my, my, my it certainly hasn't stopped your desire for wanting to be locked up! We're extremely grateful for every purchase you've made over the last few months - we know that it's been a difficult time for many people with furlough schemes, social distancing and shielding causing most of our plans to go straight out the window! However, it does our kinky little hearts good to see so many of you caging yourselves up~!
Whilst you're at home, writhing away in your little cages and desperate for release, Mistress K is here to make your torment worse by reviewing some products for you. If you want to fantasise about what you might do with these amazing products, I'm not one to discourage you. In fact, I think you'll find that we'll be extremely encouraging.
Today's review is about Godemiche - a UK based company that makes hand-made dildos, butt plugs, masturbatory toys and the variety is truly out of this world. Let's start with all the formal stuff first - we have purchased the Godemiche products with our own money and this review isn't being sponsored in any way.
So how did I come across these fine UK-based purveyors of dildos? I came across Godemiche back in 2018, I believe it was through a recommendation from someone on Instagram. The sight of a well photographed, sleek dildo - glitter catching the light made my mouth water and being the curious and filthy little minx that I am, I had to know more. It may have been the first time that I had actually seen a glittery dildo. Now, no hate out there to dildo companies - but sometimes I don't want the traditional range of flesh colours or purples/red in my harness. I'm a colour queen and a range of dildos as varied as my latex or lingerie wardrobe is a necessity. Being able to match my dildo to the seams of my stockings or a shiny latex bodysuit? What a dream!
I digress - After discovering Godemiche, I immediately followed them on social media and spent hours pouring over their website. Their website and their social media has come through some iterations since I first followed them in 2018 and my, my - only for the better. They have an Instagram, a Twitter, their website, Etsy and YouTube - all of which are updated regularly plus a mailing list! In terms of their social media preference there are very few companies I've come across that can currently match them. Monika updates their Instagram every day with their work for the day, videos showing them making the dildos - photography - questions about content etc.
Also, their YouTube content is excellent - Adam and Monika make genuine and fun videos about key topics like what is pegging, how to do an enema and promotional videos for their wide variety of products. Then on their website, they have everything from blogs about their products, to sexy stories and general sexual wellbeing topics. Over the last few months there's been everything from blogs about having sex with someone who has vaginismus, body image and breast cancer, sex and IBS, cybersex, posts about gender identities and glossaries and many more. What I appreciate about their content is that they're seeking to educate and be as sex-positive as possible.
Now, when I first discovered the company back in 2018, they produced two different sizes of butt plugs, one ball gag and 5 different molds of dildo (the Adam, the Ambit, the Hercules, the Peg and the Apprentice) but in an overwhelming variety of colours - a section for pastel colours, pearlescent colours, camouflage and effulgence (this is the glitter collection and is my absolute favourite!)
Slave D took great amusement in my consternation about what to pick as our first purchase from them - do we start small with a butt plug and assess the quality from there? Or purchase something for strap-on play so we could both immediately benefit from it? What size of dildo - the colour?? Obviously he could not respond as I kept his mouth busy with more pressing tasks but I tell you, dear readers, many a night was spent with bitten lip over this first choice. I almost resorted to a spreadsheet and ranking the potential options through a battle royals of dildos #excelnerd.
Unbeknownst to me, I discovered Godemiche in late May and in early July every year, they hold an anniversary sale. Finally I could wait no longer and our first purchase was in early June - an Effulgence Ambit with a vibrating base in glitter Magenta. This is still possibly my favourite dildo and the little bullet vibrator that comes with it packs a clit-tingling punch even when it's not coupled with the dildo. All Godemiche products come in sealed and reusable foil bags with the company branding on the back with a transparent front so you can see the dildo/butt plug/masturbator that you've ordered. This also makes for quite a nice method of organisation as you can keep them stored neatly, easy to keep clean and you can grab and go when you're in the mood!
Then came the anniversary sale - I was alone, visiting family when it happened and ended up buying 7 items from them in the sale. I had been tempted for too long! During this spree I picked up:
A Ball Gag in Glitter red from the Effulgence range.

The Anal Duo Bi-pearlescent collection in Purple pearl and gold (which contained The Peg and The Plug-B).

2 additional Plug-Bs; one small in Glitter Red and one large in Glitter Gleam (pink).

Two Adams - one from the Pearlescent range, in the 6 inch size; one Black and Gold, one from the Galaxy range also in the 6 inch size in the Galaxy colour mix.

A second Ambit with a vibrating base in the colour Confused Rainbow from their Unique collectio

n.
I bought these in two separate orders on the same day (the second purchase coming after some late evening dirty messaging with Slave D whilst we were apart) and dropped an email through to ask if the orders could be combined so they came in one package and to check when they might be delivered as we were attending Pedestal at the end of that July. Monika, one of the owners, emailed me back to let me know when the items were posted and changed the postage to First Class for us. Because of the sheer volume of orders, they didn't arrive in time for Pedestal but honestly, we had known that was a complicated ask during any special offer/sale period for a company.
So with that veritable bounty of products, what do we think of them?
Let's start with the technicalities of the product. They're all made of silicone. It's not medical grade silicone, but it is FDA approved. I know a lot of people who boil their toys for cleaning which you can do with the Godemiche toys (you can also put them in the dishwasher without a washing tablet or use good old fashioned warm water and soap) - the only caveat with this is to not boil the clear silicone toys, the glitter/Effulgence toys or the Valentines collection because the heat will discolour the clear silicone and disrupt/change the glitter in the other collections. We've always used warm water and soap or body safe toy cleaner and never had a problem with it affecting the products.
The products also come in different silicone shores - or firmness levels which you expect from most dildos manufacturers. The Plug B, Apprentice and Peg are all made with 40A silicone which means it's a firmer toy with not as much flexibility as other models. Understandably because these toys are smaller and used for insertion, the firmness works well for these. The other dildos and ball gags are made of 15A silicone - an even mix between very firm and extremely flexible silicone. Godemiche does offer some other products in 00-50 and 00-30 which are much softer varieties of silicone but we've never tested any of their models with this silicone so feel it would be unfair to comment on that without experience!
So how did we find them? Mostly positive to be honest with a few caveats (which are not necessarily negative, just not our personal preferences). Let's do caveats first, shall we? Firstly, the ball gag that we own is not the same one that is currently on offer on the website - it was redesigned in the last year, and the range was expanded at the same time! The ball gag shape didn't really work for us - Slave D and I prefer round ball gags as standard and the Godemiche one is more tube shaped with slightly rounded edges. The rest of the gag is really well constructed - the buckles work nice and smoothly, the leather is supple and smooth against the skin and the D rings are firmly secured to the gag. It's just the shape that didn't work great for us - but your mileage may vary! Plus now, Godemiche offers a variety of ball gags, including those specifically designed for those who love to see the slutty drool of their sub dripping out of their mouth.
Second caveat is the size of some of the dildos. As you can see from the list above, we own two Adams in the 6 inch size (you can also buy it in an 8 inch) and for us, they are mostly just beautiful decorative sex ornaments! That's because Adam is a girthy toy - which Godemiche, to be fair, does state in their listings. It's 15 centimetres (5.9 inches) at the head circumference and 14cm (5.5 inches) in the shaft which is a lot to accommodate! We've used it for face fucking mostly because it really stretches the mouth beautifully but as neither of us are Size Queens/Kings, it's just a bit too girthy for us. However I know that some people, like Goldilocks, will find that this fits "just right"! If you find that the Adam isn't big enough for you - Godemiche also does a "Hercules" model which comes in three different sizes, has silicone balls (possibly the first dildo I'd seen with balls!) and the largest of the three has a head circumference of 15.3 centimetres (6 inches) and a shaft circumference of 15 centimetres (5.9 inches), with an insertable length of 21.5 centimetres (8.4 inches). Truly a heroic dildo to incorporate into your sex life! (A side note here, I was so pleased with my purchases that I of course told my friends, a few of whom ordered from the company. One friend ordered the Hercules, and sent our group chat pictures of it on her kitchen counter, saying "it's a lot bigger than I expected." As I say, it is not a dildo for the faint of heart.)
Those are my two caveats about the products! All the other products we've been thrilled with and have used many a time since we bought them, so I can confidently say that they're worth it. My personal favourites are still the Ambits - the sleek shaft and defined head design mean that they're ideal for any type of insertable play (although feedback I have received is that the corona of the glans can be a bit too firm if you're overstimulated) and the size is, on the Goldilocks scale of House of Denial, "just right." The Pegs are excellent for beginner pegging (as one may guess from the name) - but also I've found them fantastic for insertion if you have vaginismus (depending on the level of your vaginismic response). Our Adam models make beautiful book ends (obviously not their intended purpose, but sex aesthetic is definitely a thing, right?)
Actually - sex aesthetic is definitely a thing because everything that Godemiche makes is functional sex aesthetic. The toys are designed to look good and feel great - as I extolled above, the variety of choice is magnificent including the amazing Pride Ambits and it's fun to have sex toys that aren't the "norm" (whatever that is!)
On the whole, we at House of Denial can whole-heartedly recommend Godemiche products. And through them we've found some amazing other online retailers that our reviews are currently being worked on (Off The Tongue and Liberator) so keep an eye out for those filth articles. If you sign up for their newsletter (at the time of writing this), you get 20% off their products (this doesn't apply for other items they stock such as Liberator furniture or the harnesses) so we hope that you'll try them out and hopefully fall as much in love with them as we have.
Have you tried out any of the Godemiche products? Do you love them as much as we do?