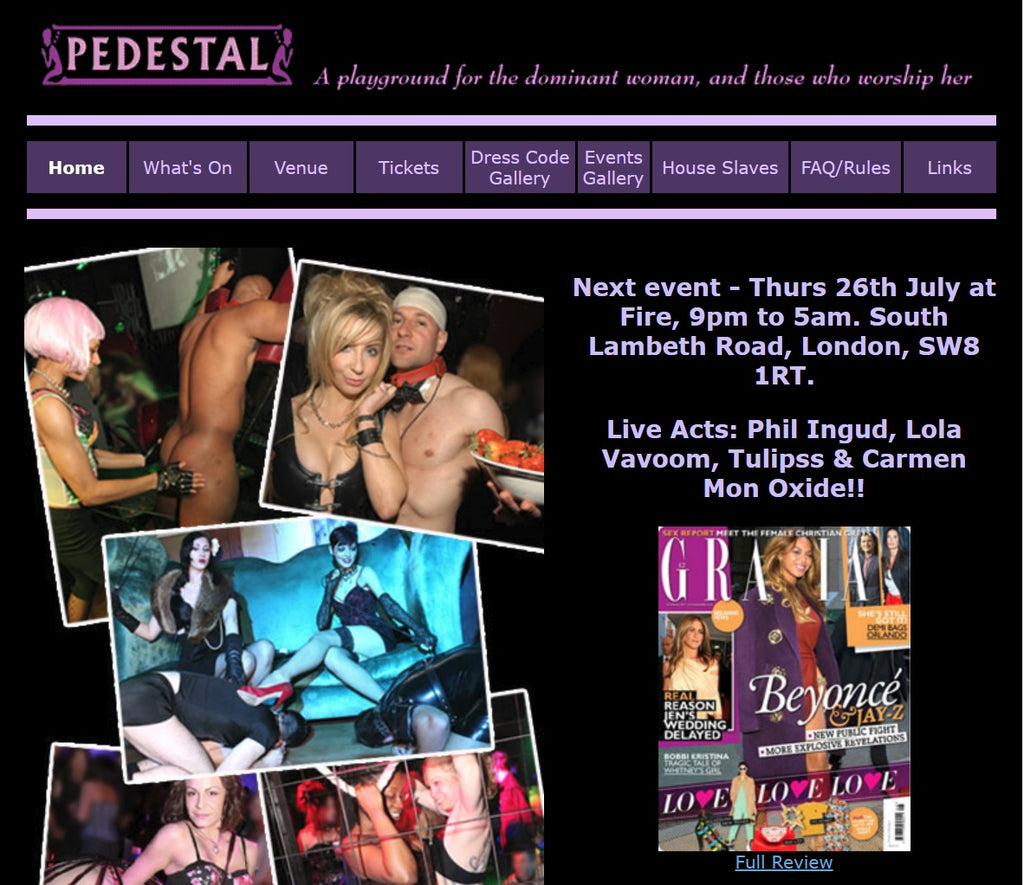 Last month Mistress K and I attended Club Pedestal, which is a female domination focused kink event held at Fire Night club in Vauxhall London. We've attended kink and fetish events plenty of times before, but this was our first time going to a femdom focused event. A number of friends had recommended it on a number of occasions, so we decided to find out what the fuss was all about for ourselves. It's run on the last Thursday of every other month (we went in July, so the next one is in late September).
We travelled down on the train for a few hours and checked into a hotel a short tube journey away from the venue. Before getting ready we dumped our bags, went out for some food and came back to the hotel for a few hours to relax.
It's worth mentioning at this point that on the day of the event temperatures in central London peaked at 34 degrees centigrade or 93 degrees Fahrenheit. It didn't drop much below that going into the evening. To say that we were looking forward to putting on the latex outfits that we'd packed to attend Pedestal would be a lie, which is why we left it until the very last minute to get changed.
Here's our first tip for anyone planning to attend any event in latex, particularly when it's very hot outside. If possible, get changed at the venue. With my cock locked up in a clear Holy Trainer v2, I put on my latex shorts at the hotel with my plain black trousers over the top. Big mistake. By the time we'd walked from our hotel to the tube station my trousers were soaked on both sides where the sweat had cascaded from inside the shorts and down my legs. Sexy image, right? I digress.
Finding Fire nightclub where the event is hosted was quite easy (thanks Google Maps!) and only around a 5 minute walk from either Vauxhall rail or underground stations. After our ample bag of toys, outfits and shoes was searched on the door before entering we walked on in. The entrance fee if you pay on the night is £25 for singles or £40 for couples, but you save £5 off either if you book in advance here.
The event uses a wristband system to indicate if you're unattached and available for play, new to Pedestal or a band to show that you're submissive and have read the rules, which will allow you access into the Goddess room. Here's a visual run down:
If it's your first time attending, head for one of the house Domme's as soon as you enter and politely ask for a green wristband. I honestly didn't notice anyone checking wristbands as we walked between the different rooms, but as we were both wearing one I wouldn't have been stopped, so I couldn't tell you how strictly they were checked. To be on the safe side, get a wristband.
Now that we were in the venue we quickly found the changing area, which is upstairs as soon as you get through the main doors of the main room. The venue is a nightclub, so there are no private changing rooms. There are a number of seating booths upstairs for you to dive into to get yourself ready. If you're body conscious or would rather get changed in private, head to the toilets and grab a cubicle or get dressed at home.
Pulling off our clothing at this point was a priority due to the heat, so of course after taking off my shirt I put on a latex zip up top. Super smart! The sweat poured off me, but I persevered and can assure you it got better and easier as the night went on.
The club has five main sections; the main room, Goddess room, dance/cabaret/demonstrations room, a small (and slightly more intimate) room upstairs and the smoking/outdoor area out the back.
The main room has plenty of kit in it to use including a trample cage, multi use frame that most people used for flogging or spanking, plenty of seating, a bar and a DJ booth at the end of the room. Thankfully this room also had 2 huge fans (one at either end) that did their best to provide some cool air.
The Goddess room to the left of the main room had more seating around the edges, some spanking benches and a cross that submissive's could be attached to for a good flogging, a cage ball and a bondage seat where we noticed one lucky male submissive was getting thoroughly teased and tormented by a female dominant with his arms locked to either side of him and his cock locked in a metal cage.
The Goddess room is a little stricter than the other rooms. Here are the rules, which are posted around the room:
Men are expected to speak only when spoken to while in this area.

Seating is for women, men please keep off the chairs and sofas.

Unaccompanied men are required to obey any safe/sane instruction given by any Woman present.

All physical play must be consensual.
Head up the stairs at the back of the Goddess room and you'll find a much smaller space with seating around the edge. This was described to us as a more "intimate" space, though when we poked our heads up there most people were socialising. Still, the option is there if you want it.
To the right of the main room is what we'll call the dance room. It has a large bar and plenty of space to get your groove on if that's your thing. We also believe this is where the cabaret acts are on, but we didn't see one this time as we were outside at that point.
Head to the left once you're in the dance room and through the corridors to get outside. There was a retailer selling kink items and clothing, so there is an opportunity to buy toys, canes, floggers or outfits if you turn up without it or want to add to your collection. There are also plenty of wooden picnic benches to get a breather, smoke a cigarette and relax. This area got very busy due to the very high heat inside the venue and many of us headed here to cool down as much as possible.
There's a cloak room in the main room where you can drop in your bag, coat, etc. It costs £5 and apparently (we were told by someone there) it also costs £1 each time you want to take something out of your bag. We took a fairly large bag with us and I carried it around all night, which wasn't ideal, but we had all of our kit to hand in case we wanted it. As we were both wearing latex outfits without pockets we didn't have anywhere to keep cash for drinks, so having the bag on us helped. Next time we'll either pack lighter or take a smaller bag to carry around in the venue containing only the kit we'll use. The rest (change of clothes, etc) can go into the cloakroom.
Sakura Strike at Club Pedestal
Now that we've described the venue, let's get onto the event itself.
Before heading to Pedestal we chatted with a few of our friends who had attended the event before. All of the opinions we heard were from the view of male submissives. Some had attended either alone or in a group with other male submissives, while others attended with a play partner. Based on these conversations we naturally formulated a rough idea in our minds of what to expect.
Everyone that we met with and spoke to couldn't have been more welcoming and friendly. This is generally our experience with most kink events and Pedestal was no different. Of course you're going to find the odd bad apple, but the vast majority of those in attendance were lovely. If you haven't attended any kink or fetish event before and are concerned about the people that you might meet there, you need not worry. We overheard one submissive male talking to another say "everyone's here for the same thing. It's a great crowd of people who come here," and we couldn't put it any better ourselves.
Tap water is available behind the bar for free. We bought two small bottles of water at the start of the evening in an attempt to stay hydrated and it cost us £5.40. Don't make the same mistake we did. Ask for tap water instead.
We're now going to split this section into two parts; one the perspective of a dominant female (Mistress K) and the other from a submissive male (Slave D).
The Perspective of a Dominant Female
I'll start my review by saying that I had some apprehension about attending Pedestal - not because I wasn't keen on attending the event, but because there were so many stunning women due to be in attendance! My submissive spent many an eager hour searching the Instagram and Twitter tags to see who was going to be in attendance - and my word, there are a lot of gorgeous Dommes out there. However, my fears were allayed by the first Domme we encountered being absolutely lovely and welcoming to us both. Over the course of the evening as we passed her by, she would stop us to check that we were having a good time. Little moments like that mean a lot and can really make an event for you.
As mentioned above, the night was humid and sticky but the club did it's best to ensure that they made the venue as comfortable as possible for everyone in attendance. When we entered the venue, the house slaves presented the women with a long-stemmed rose, which is a wonderful little touch to demonstrate the honoring of woman at the core of the event. After we changed, I didn't find it as uncomfortable walking around the inside of the club because I was wearing a mixture of lingerie with latex on top. However, I am renown for the fact that I am always cold, so perhaps it might have been a tad warm for other folks.
The thing that surprised me most about the event was the different types of kinksters in attendance and what I expected the event to be. The image I had in my head prior to the event was opulence and hedonism that wouldn't have been out of place in ancient Rome, with giant plush floor cushions, being fanned by oiled beautiful men with palm fronds, decadent treats - I'm sure you can picture it well! Which to be fair is entirely unrealistic but a Domme can dream! But part of me held on to this fantasy image of entirely subservient men present all through the club, eager and grovelling to please Us with any actions we deemed suitable. Which of course, is not how life goes. People come in all shapes and sizes, and that doesn't change just because you're at a Femme Domme event.
There were some handsome men there, eager to show off their muscled forms for the women, there were the shy men who approached dommes with eyes downcast and not a word said (which to be fair, was in Goddess room so was in line with the rules), there were the kinky men who lay for hours in the trample cage awaiting the heels, toes and stocking clad feet. It was a fascinating array of people. But at the heart of it, the impression I came away with was that you can boil men who attend Femme Domme events down to two very broad Types: - those who genuinely want to serve and prostrate themselves to strong women and those who are turned on by being dominated in a more temporary sense. Nothing is wrong with either of those desires, but it didn't fit with the image I had built in my head - which is entirely on me.
Something I experienced that I found truly lovely were the people who were there. I've mentioned about the Domme who so warmly greeted us, the head of the House Slaves also checked in with us when he encountered us later in the evening, cheeky shared winks between the Goddess Room Dungeon Monitor and I during our sessions and the super sweet submissive and adorable pink petticoated sissy who came over to me to tell me that I looked beautiful. As I mentioned above, little moments of shared connection like this really endear you to an event and make you keen to return.
I definitely overpacked our Play bag for the event but I was so eager that I didn't want to regret not having the right toy at the right moment! However, it was so hot (apparently) for most of the night that we sat outside for quite a while, meeting some lovely couples and didn't put all our kit to full use - learning experience!
In terms of play at the event, I wholly underestimated the amount of Foot Worship that would be occuring. Our friends who have attended the event in the past are foot fetishists, so I had wondered if their views on all the foot play going on were perhaps slightly skewed but they were not. If you're into feet, I would recommend going to Pedestal.
On the flipside, the thing I expected to see a lot more of at the event and I don't recall seeing a single one was harnesses and strap-ons. To me, a lot of my domination is centered around male chastity, humiliation, denial and strap-ons. The first three kinks were openly present at Pedestal but such a deficit of Domme dick! I was distraught, especially as I had invested in a whole new range of glittery and vivid dildos in all sizes for the event. With no other female phalluses to be seen, I kept mine packed away in our bag, not to be worshipped or adored as expected. Alas, maybe at the next one!
All in all, despite Pedestal being different from what I expected, it was the good kind of different! We had an excellent evening at the event and plan on being in attendance in September. My recommendations to anyone going are:
Dress to impress. You don't have to wear head to toe latex, but being clean, smart and well-presented will go a long way to anyone you're interested in speaking with.

If you're a submissive male, be respectful and polite when interacting with the Dommes. That includes not pushing past them when you're going through doorways - seriously, it's rude. Wait five seconds and then journey on.

Ensure you've got a safe route home or are staying near to the venue! We believed the Night Tube was running and were planning on catching the last train at 3:02am - we were wrong and ended up having to get a taxi back to the hotel. Not awful, but something definitely to be aware of.

Go in with a good and open-minded attitude. I cannot advocate enough how much of an impact this makes. You can be the meekest sub, but if you have a great attitude, you're far more attractive to a Domme who is looking for someone to play with.

Have fun. Seriously. It's not what I would classify as a "super strict" Femme Domme event - people are there because they all have something in common. Go and enjoy yourself!
The Perspective of a Submissive Male
I must start by reminding you all that we attended Pedestal as a couple and played exclusively with each other while we were there. I can't comment on how it is for anyone turning up as a single submissive male and trying to find play at the event as I didn't need to do this. I can and will comment on what I read before the event and what I observed while we were there.
Pedestal has a group of house slaves available for dominant women to call upon for play if they wish to do so. While we got changed into our latex at the start of the evening we spoke with a very bubbly dominant woman who had a house slave brought to her to aid her in getting ready. Once she was ready she disappeared off into the club to play with them.
A small piece of advice if you become a house slave. Please learn the layout of the venue and know where everything is. We asked one of the house slaves where the toilets were early in the evening and we got a shrug of the shoulders in response. Not a huge issue but it would have been useful to know as we didn't ask any of the house slaves any questions after that. Making a good impression by being helpful might just endear a dominant female towards you.
You can apply to be a house slave in advance of the event and they hold a house slave recruitment evening around 1 week before Pedestal. Keep an eye on the Pedestal Fetlife group for details.
Alternatively there's a select a slave competition run in the Goddess room at 11pm where you can put yourself forward to be grilled by the attending dominants and get yourself selected to play with one. This is a fantastic option if you're attending for your first time and you don't know anyone there. It's also a good opportunity to put yourself out there and allow new people to find out more about you. We were outside at the time this happened, so I can't comment on how it went.
A large percentage of the play that I observed (both inside the club and some outside) was foot based. This included trampling, massage and foot worship. If this is your kink then you're in luck! The trampling cage in the main room appeared to be available for anyone to lie down in and have dominant women trample you.
I was expecting plenty of women to be walking around wearing strapon's, but I didn't see a single one. I completely forgot that the event was held in a nightclub, so penetration in the main rooms is out of the question. Many of the fetish events that we've attended are hosted in swingers clubs, so the rules are much less strict. Also, the heat probably put off a lot of people from exerting themselves too much, so it might have been an anomaly.
There was lots of spanking, flogging and caning in the Goddess room, which was fantastic to watch and participate in when Mistress K spotted a free spanking bench for us to use. Cleaning supplies were available in this space and I wiped the equipment down after using it. Please always remember to do the same if you go.
It was fantastic to see a number of male submissives openly wearing chastity devices. Most of the devices I spotted were metal cages. I wore a clear Holy Trainer v2 under my two way zip latex shorts. I completely forgot it was locked to my cock a number of times during the evening because it was so comfortable. So, if you're considering wearing your chastity device to Pedestal, go for it!
Based on my observations at a couple of fetish events, please consider the following recommendations when approaching female dominants if you're looking to seek permission to play with them:
Be courteous and polite - Please and thank you are the bare minimum. Let women walk through doorways before you or hold doors open for them, wait for someone to stop talking to others before you try to initiate a conversation and thank the bar staff for serving you.

Confidence is key - If you attend Pedestal (or any fetish event) on your own you need to be prepared to make the first move. If you notice someone that you're interested in playing with you can wait for them to potentially approach you (not too likely) or you can make the first move and ask them. The Select a Slave competition is also a great way to meet potential play partners.

Offer compliments - If you think someone looks particularly beautiful, pay them a compliment. This might lead to them approaching you for play, but it might not.

Consent - Ask for someone's permission to play with them before you do so. Don't just fall at their feet and start touching them without asking first.

Keep your dick in your pants - Walking around with your cock swinging between your legs isn't going to impress many, so please keep it tucked away unless someone decides they want to see it out.

Dress to impress - You don't have to spend ridiculous amounts of money on your attire. A simple black shirt, well fitting black trousers and a polished pair of shoes is a good start. If you want to walk around in your underwear pick something a little different. Maybe a colourful silk pair of boxer shorts. Please leave the trainers at home! I noticed a few males walking around in white trainers (even though it's in the

dress code

that this isn't allowed) and it looks ridiculous.

Take rejection gracefully - If someone that you approach says no, don't get annoyed or pushy. Say thank you for their consideration and walk away.
I hope this advice and tips help everyone to have a great time while you're attending.
Seeing as this is predominantly a male chastity blog it would be rude not to comment on this fetish in relation to the event. For example, is it possible to find a key holder or chastity play at Pedestal? My answer to that would be yes. I recognised a number of professional dommes at the event who I know offer this service, though that would be a paid service. I don't know if they'd participate in that type of play at the event without a prior agreement, but it's worth asking.
Summary
Simply put, we had a great first experience at Pedestal. The weather didn't discourage us from attending and we're glad we did. There's no doubt we'll go back in the future and next time we'll hopefully bring friends. We've recommended Pedestal to a number of our kinky friends already and we'll certainly praise it highly to others.
You can find more information on their website here or on their discussion group on Fetlife here. They usually post details of the next event around 4-6 weeks in advance, so check back regularly for the latest details.
Have you been to Pedestal before? Or do you have any questions about our experience? If yes, please post in the comments below.