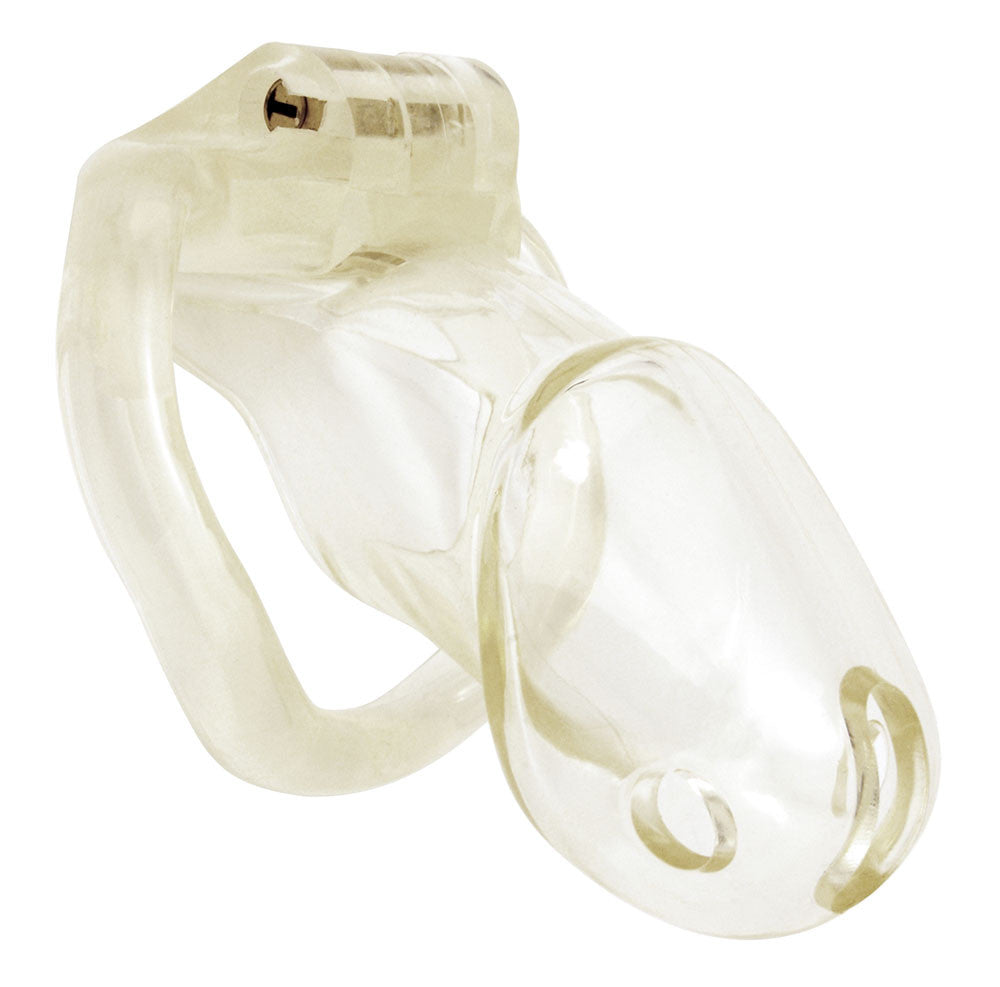 Mistress K and I have used many different male chastity devices over the years during our play sessions but none have compared to the Holy Trainer V2 cages. We've tried the biosourced resin cages and the steel version, both of which had their benefits. If you're considering buying a Holy Trainer V2 for yourself or your partner here are a few of the things we've found that might convince you to hit the add to cart button.
1. Comfort
The cage and rings are ergonomically designed to be as comfortable as possible. The curve of the rings means there's fewer issues than other devices were the bottom of the ring creates friction and pain under your ball sack, particularly when it's worn at night. 
The biosourced resin cage is very lightweight and I've completely forgotten that I'm wearing it after a very short period of time. This is perfect when you're wearing it 24/7 or during intense play sessions.
The steel cage is also surprisingly comfortable, though I haven't worn it out of the house at any point yet. It weighs more and looks incredible during play sessions, so I'm told by Mistress K.
As a huge fan of CBT the Holy Trainer doesn't interfere or prevent this type of play occurring. Mistress has been able to sound me through the hole at the end of the cage and inflict large amounts of pain to my ball sack without me every needing for the device to be removed. 
2. The Hidden Lock
Having an internal lock instead of a padlock is one of the best features of this chastity device. Wearing a cage with a padlock has been a small concern in the past as it creates a more obvious bulge under clothing. The internal lock removes this issue and it sits perfectly in your underwear without drawing any attention to it.
If you wear your chastity device all day including visits to the gym, a night out in town or daily at work this is ideal.
3. Durability
We've put this device through some serious testing (it's been worn many, many times for different amounts of time ranging from a few hours to over a week) and it's held up to the demands we've put it through. The cage has taken a few accidental (and some intentional) impacts with a crop and metal cane and hasn't caused any damage to the cage or myself.
4. Range of Colours
We stock a range of colours in the Holy Trainer V2 device including transparent, black, pink, orange and white. Sissy's wishing to lock their cocks away will love the beautiful pink device, the black version will remove your ability to see your cock through the cage and the transparent version puts your cock on show.
5. Cost
Last but certainly not least is the cost. For only £34.99 with free tracked UK delivery for the biosourced resin kit or £79.99 for the steel kit this device could be yours. We also ship worldwide for £9.99. It's fantastic value for a brilliant chastity device that ticks all of the boxes.
----------------------------------------------------------------------
In summary the Holy Trainer V2 chastity device is one of the best we've used personally. We've read many reviews from people who own a range of different cages and some have glowing things to say about them. Custom made devices are very expensive but the benefits are clear. Sadly we don't all have the budgets to spend on a custom kit, which is the reason we started our site in the first place.
This kit is affordable, comfortable and ideal if you want to wear it for prolonged periods of time. The Holy Trainer V2 chastity devices are available to buy in our store now.