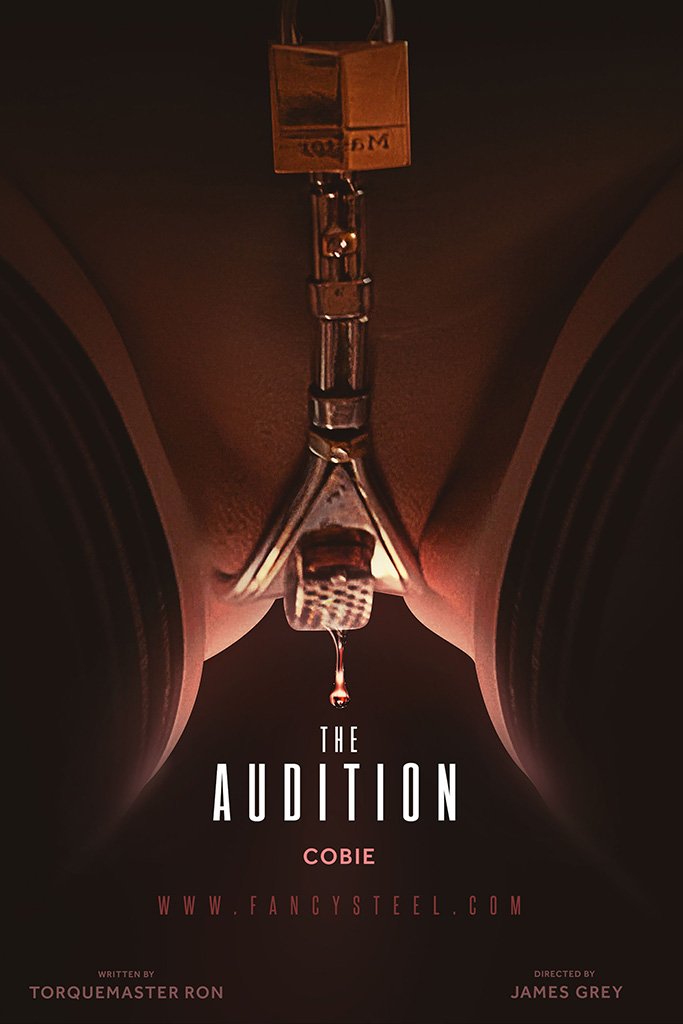 A small Australian company, Fancy Steel, specialises in belt-style chastity devices and cinematic fetish films. Founded in 2013, the company now has over 50 films available on their website, including bundles of several episode-long series. 
Fancy Steel gets mixed reviews online regarding their belts, but in this review, I will be giving my honest, unbiased and objective thoughts on their film "The Audition" directed by James Grey, starring: Cobie and 'Sadistic Wings'.
The film is a stand alone, rather than part of a series and is based on a script submitted to the site by one of Cobie's fans. Perhaps her most physically challenging role, being subjected to many different forms of bondage throughout the entire film. The Audition is available as an individual purchase on Fancy Steel for $24.99 AUD ($18/£13) in 4k resolution.
Movie Summary
The Audition is a 32 min short film featuring two actors: Cobie, the lead female actress and a rigger/male Dom known as 'Sadistic wings'. The storyline for this film is described on Fancysteel.com as an audition for an erotic adult video production. 
"Cobie arrives only to find the venue completely empty. Immediately, a box of restraints catches Cobie's eye. Tugging at the first of many chains, Cobie starts to try the restraints on, before she is busted by the Master, played by Sadistic Wings.
The Master subjects Cobie to countless restrictive and kinky scenarios, culminating in a double plug steel Chastity belt."
'The Audition' is adventure porn, exploring the fetishes of chastity, male dominance, the use of a posture collar, nipple clamps, steel and rope bondage, escape, a ball gag, drool, and humiliation.

Plot
Wearing a short skirt, sheer crop-top and hold-ups, the film starts by following Cobie through a stairwell into an empty yoga-studio-like building. Carrying a piece of paper she leads us to believe she has arrived for some kind of audition and is the first person on set. Walking around the empty studio, she finds a box containing various lengths of chain. 
With nothing to do, and no-one in the building she explores the contents of the wicker box and begins to try on the metal cuffs, starting with a neck restraint. Still, no-one else in sight, she takes off her top and touches herself erotically before adding more restraints to her ankles, along with a ball-gag and nipple clamps. Finally, she secures tight fitting handcuffs behind her back, just as footsteps appear in the main entrance. Struggling to pick up the keys, she is caught by the mystery intruder completely restrained and at his mercy.
The next scene skips ahead to Cobie in the main room, ankles and wrists now in thick metal shackles, gagged and wearing a posture collar chained up to a point in the ceiling. She is completely naked except for a pair of black hold-ups. The male Dom approaches wearing heavy boots, jeans and a tank top. There is a sensuality about his interactions with Cobie as he releases her hands and watches as she plays with the ball-gag and chain attached to her collar. He brings her a Fancy Steel chastity belt equipped with anal and vaginal plugs and steps back to watch her secure the device.
Cut to a new scene, and Cobie is now in another bondage position: spreader bar attached to her ankle cuffs, she is bent over with tight metal restraints securing her wrists and elbows behind her. They are attached up to a point in the ceiling with rope and nipple clamps dangle from her chest. Sadistic Wings introduces a leather crop to tease and spank her with.
Another cut and another new bondage position, this time Cobie is restrained in rope, laid on the floor in a hogtie position with a different kind of gag. She rolls around slowly, experiencing the sensations on her skin. The Dom returns, this time with a pair of scissors, which he places just out of her reach. We see Cobie struggle to reach them and eventually cut herself free, she removes the cock-gag last and smiles, enjoying the experience as she does so.
The final scene cuts to Cobie tidying away all the restraints and implements used back into the wicker box, she returns it to the Dom and presents herself at his feet. He plays with her one final time, tying a crotch rope around her waist and attaching a wand style vibrator, the film ends very sensually as he takes her, post-orgasm, into his arms. 

Creative Elements
Although the film is mainly set within one room, focusing on Cobie, the creative use of space and lighting adds a lot of context and drama to the film. A well balanced music selection is used throughout to increase the tension of the scenes and a saturated, green/blue colour grade creates a stylistic feel in line with other films from the same company. All footage is recorded on a hand-held camera which keeps the flow always moving and gives the viewer a full 360 degree view of the action. The camera work in this way is very immersive and really places the viewer in the room with Cobie and her Dom. 
There are a number of close up shots using a shallow depth of field to show off the intricacy of certain restraints, such as focusing on the padlock added to nipple clamps to increase the weight, this really highlights Cobie in a beautiful way and shows the depth of her struggle against many types of bondage. 
Cobie is an excellent actress and plays this role really well, her contradiction between pleasure and pain, struggle and enjoyment really shows through her emotive expression, despite the film being almost entirely without speech.
As with other films from Fancy Steel, there is a strong focus on materials such as metal and rope, the narrative is encapsulating an experience that is emotional as well as physical and focuses much more on the fetish elements than sexual acts. That said, I thought adding a wand style sex toy towards the end was a nice way to show orgasm on camera without being overly graphic or involving male genitalia within the film.

Opinion
I really enjoyed this film, the storyline was intriguing and clearly written by a bondage enthusiast. It portrayed the model in a beautiful light, which is not always the case with bondage films and there was a lot of high quality equipment used throughout the film such as the neck restraint, posture collar, heavy steel shackles and spreader bar, not to mention the wonderful choice of chastity device. 
I do think the storyline could have been made more clear through the use of signs in the building or speech from the main model or male dom. Without reading the overview on the website it would not have been clear that Cobie was attending an audition for an erotic film, and even having watched the movie several times over, it isn't clear wether what happened was the audition or wether it was a chance encounter. Perhaps an ending scene referring back to the casting would add more clarity to the purpose of the interactions or who the man was in relation to the storyline, but purely aesthetically it was very enjoyable to watch. 
I'd have liked to see more of the action that was cut out between scenes, I feel it could have been very hot and added tension to the film to see the model being tied or put into restraints. Often there is a lot of anticipation and empathy built for the model during such scenes but these were all cut out and replaced with a black screen between scenes. There was also a missed opportunity for contextualising the dynamic and interactions when the man was engaging with Cobie, but what was shown was very little tension or authority which I feel could definitely have added a lot to the overall storytelling - was he the person conducting the audition, perhaps he had certain standards for her to adhere to? Or was he a stranger taking advantage of an opportunity? Neither were clear but would have been a welcome addition to the film.

Conclusion
Overall the film is a really high quality short film with great actors, lighting, music and camera work, however, as with other Fancy Steel films, I feel there were some obvious errors which could have been easily fixed such as there being a phone on charge in the background of several shots and excessively long pauses between scenes, but a very quick pause at the end before introducing an entirely new trailer. Some of the colour grading was inconsistent and at times the models looked directly into camera when they were not making any eye contact for the rest of the film which felt unintentional.
There were, however, many instances of particularly beautiful aesthetic close-up shots of nipple clamps, Cobie teetering on tiptoes, and struggling in various bondage positions, none of which were over-acted and the reactions and expressions appeared to be a genuine mixture of struggle and enjoyment. 
I really enjoyed how much the chastity belt featured in this movie, the close up footage of her inserting the anal and vaginal plus was really well shot, it left a lot to the imagination and wasn't overly graphic while still being incredibly sexy.
The cinematography was beautiful throughout and I enjoyed the constantly moving camera angles. It was nice to see a sensual interaction between the character but, as discussed above, there was room for more storytelling within these interactions. I feel the film is good value for money and am happy to pay $24.99 AUD for this 32 minute film. I rate it 8/10 and would be pleased to watch other films produced by James Grey starring Cobie.
I've really enjoyed reviewing the short films produced by Fancy Steel and if you'd like to see more written reviews on chastity based products and films, please leave your comments below or on twitter at @Mistress_Thorne and @HouseofDenial.