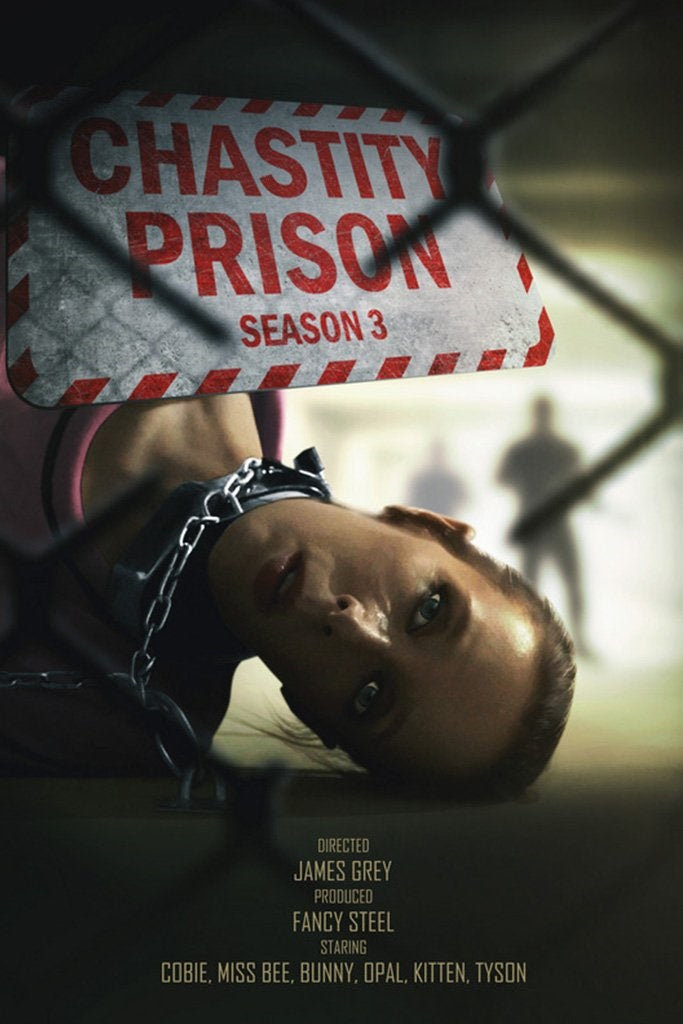 Who better to bring you excellent quality chastity movies than an avid collector, enthusiast and website owner? Fancy Steel is an Australian chastity belt design-manufacturer specialising in bespoke belt-style devices. The company was created as a collaboration between the founder and a steel craftsman in 2013. Rather than working on a large production scale, they focus on creating made-to-measure and custom work. 
Fancy Steel gets mixed reviews online regarding their belts, but in this review, I will be giving my honest, unbiased and objective thoughts on their film "I have a crush on you" directed by James Grey, starring: Cobie, Miss Bee, Opal and Kitten.
This film is part of an ongoing Prison themed series, and makes up episode 1 of season 3. This video appears to be unavailable to purchase individually but comes as part of their Season 3 all access pass for $65.00 AUD.
Movie Summary
'I have a crush on you' has a 16.40min run time and an all female cast. The episode starts with two school girls, who are photographed by a stranger, kissing outside of the school grounds. The girls are arrested and taken to prison for their petty crimes, where they are punished and trained using a strange assortment of behaviour modification techniques including: chastity, restraint, objectification, domination, discipline, caging, latex, shock collars and more.

Plot
James Grey uses cinematic camera work and music to create drama within the film. After the first few minutes we're moved to feel nervous on behalf of the two girls as the confusion of the situation leads us to wonder what is in store for them. It's unclear what element of the first scene landed them in prison. Was it the kissing? Breaking school rules? Because they are lesbains? Or something else yet to be revealed?
The girls, primarily referred to as 'sluts', are initially interrogated by two female prison guards. They are transported/held in stacked cages and put into bondage before being separated. We follow the journey of one 'slut' as she is stripped from her uniform and introduced to the lead warden, where she is then given the choice of 'advanced training' or spending time 'on the farm' (referring to other films produced by Fancy Steel).
Fitted with a steel chastity belt, she is hosed down and locked away in her cell. Through the walls of the prison the unnamed girl is re-acquainted with her friend, presumed to have undergone a similar initiation. 
For me, this is where the plot gets confusing, the choice was perhaps rhetorical as girl 1 (presumably, though her identity is mainly concealed), is then shown fully encased in latex, attached to a metal bondage device. She is fitted with a tongue depressor gag and metal collar electric shock.
Clever use of video editing reveals she is now in 'chastity prison advanced training' and linked up to a monitoring device. The lead warden explains that she will get zapped (presumably an electric shock) every 10 seconds for the next several hours. Part way through training, the other guards return to tube feed her water while holding her at gunpoint where the film ends.
Creative elements
The use of multiple locations and props, such as the transportation cages, sets the quality expectation for this film as being high-end and more in line with an amateur horror movie than a typical porn film. The harsh lighting and bright colours give a very stylised viewing experience, consistent with Fancy Steel's other movie collections, bringing the whole prison series together as one consecutive production.
The lead model is excellently cast and brings a lot of emotion to the role, amplifying the distress of the narrative. It is enjoyable to see a diverse female cast, giving a subtly queer vibe to the production, while also incorporating an astounding number of stereotypically cis male fantasies such as: school girls kissing, female domination, prison dynamics, female chastity, lesbians and latex.
Unlike most fetish/porn films, there are no sexual acts or explicit content, but a nice focus on physical restraint, mental capture and high quality chastity belts, though I felt the use of a gun was unnecessary and depreciated the overall film standard. I enjoyed the contrast of camera angles, the switch between close up detail shots of the restraints and belt combined with wider angle sections focusing on narrative.
For such a high quality overall production, I was disappointed at some basic editing oversights such as spelling errors and rough jump cuts, but the audio composition of music and dramatic sound effects balanced this out and made it overall enjoyable viewing.
Opinion
An initial criticism from the perspective of a fellow model and content creator is the confusion between actresses; the girls' names are unclear and their characters aren't introduced, I'm lead to believe (mainly guessing) they are Opal and Kitten, but then I'm unsure who plays which of the wardens, making it difficult to find other works by the same models, even within the Fancy Steel movie collection.
The only character who is individually referred to is 'the warden' whose character is used to build anticipation, but once involved, she appears not to have much significance over the other officers, which feels like a missed opportunity and loses the tension within the film.
I visually enjoy the closing scene in which the lead actress is bound to a metal restraint frame, dressed in latex, but there wasn't enough reasoning for this within the storyline and it felt like a huge section of storytelling had been skipped over. With such a great location and cast, I feel there could have been room for a more gradual escalation of punishment or introduction to training to add more context, which is severely lacking for a porn film that focuses so heavily on the narrative and no sex.
Unfortunately, I was underwhelmed by the ending, I felt somewhat curious to find out what happened to the lead character, but largely perplexed at such a precipitous ending. The two guards coming in to feed her water and point a gun at her felt completely unnecessary and made the ending even more abrupt.
It is also confusing to navigate the website, I'm unclear whether 'Chastity Prison 3' is a stand alone series or whether it links to the other films. I found season 4 and 5 but it's unclear where 1 and 2 are. Having also referred to 'The farm' it leads me to wonder which order I should purchase, and whether the farm series adds to missing parts of the narrative or if it is an entirely different movie-universe. There is little information on overall order or how the various 'universes' (as they are referred to on the site) are linked.
Conclusion
Overall, I enjoyed seeing a fetish movie that focused predominantly on production quality, but felt that context was lacking, which could have elevated it to a much higher level. I appreciate the attempt to appeal to a wide audience by including a lot of different fetishes, but there was not enough explanation within the dialogue to link these together. For example, there was no explanation of why the girls were imprisoned, their 'crimes' seemed unworthy of such intense punishment and it felt as though it was ticking key-word boxes rather than focusing on a comprehensive story. 
Chastity films are often focused around sexual denial, and while I appreciate this film taking a different direction, sex and/or genitals were only very subtly hinted at, which didn't justify the use of intense chastity as a training procedure. There was a strong focus on the aesthetic of metal restraints, collar and chastity devices but little attention was paid to the function of these items within a BDSM context.
I leave feeling intrigued to watch more Fancy Steel films, both from a visually appealing context but also wondering whether some of the missing information will be pieced together as part of a larger picture. I'm not sure that I could justify paying the full series amount of $65 AUD (around $46/£35 though based upon this one film, I rate it 6/10 based largely on production value and cinematography.
If you'd like to see more written reviews on chastity based products and films, please leave your comments below or on twitter at @Mistress_Thorne and @HouseofDenial.