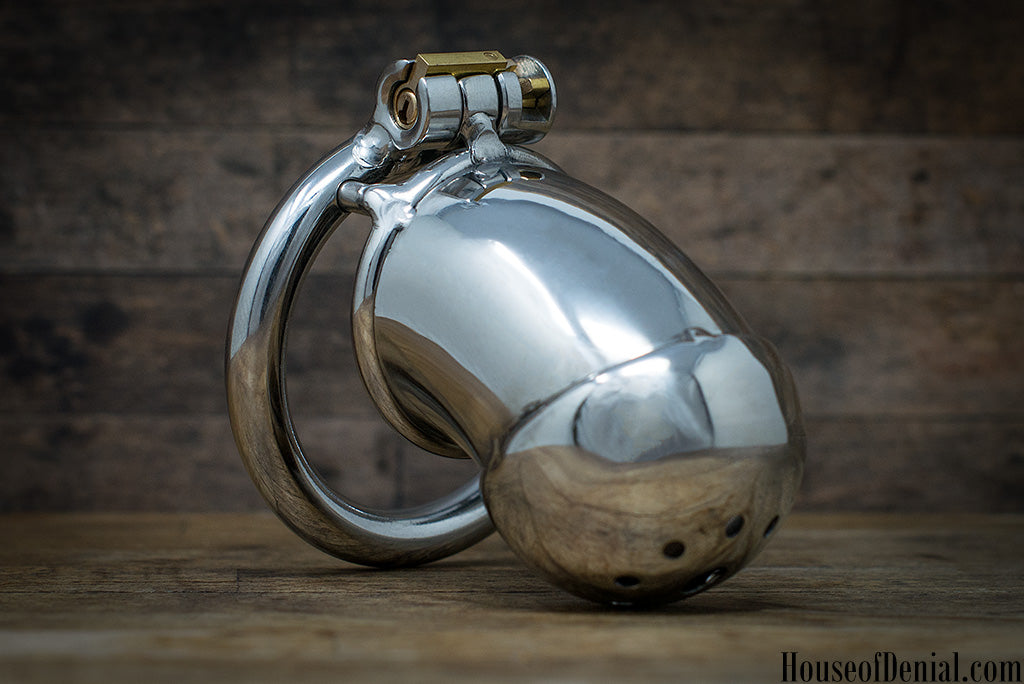 Although I craved to undress her, bend her, fuck her, suck, tickle, and all but stare at her busty petite alabaster-white body as much as she would let me, what most turned me on about Beth was her mind. She could match me kink for kink in what she gave and took, never balking at anything I suggested or hesitating to tell me a new naughty idea that had just rushed into her mind.
Even when we were already engaged in something naughty.
I especially liked not having to lead the girl with a suggestion, not having to ruminate over a fantasy, her fully understanding to what level I wanted humiliation, discomfort, denial, and even fear as I digested and understood the levels she wanted of the same without talking about them.
It's no wonder then when I finally experienced chastity, it was with the wide-eyed brunette, and it was far and away wholly unique.
"I think you come more than any guy I have ever been with," Beth offered as we tore into the juicy cheese-burgers she had just grilled us. 
After a marathon session like we just experienced, where we both had teased and taunted, spanked, sucked, and finally fucked until we both came heavy and hearty, the thirty-year-old lady and I often found ourselves ravished and if she were of a mind and had the time, I'd damn well enjoyed Beth's simple, yet always creative year-round grilling.
I had to assume the observation about my ejaculate was a compliment, as more often than not, the little lady would want me pulling out to spurt across her wide ass or onto her stomach, and she all but cooed and wiggled even closer to me when I came during one of her expert handjobs. 
"Thanks."
"I definitely like a hearty yield," she said, and we both laughed.
"In fact, if you want to keep me, baby, you'll always deliver lots of come," Beth added and smiled after another bite
"Rokay," I said, smiling along with her.
Beth then put her burger down on her paper plate, wiped her fingers across the napkin in her lap, reached over and tickled my chin. Leveling me with her brown eyes, she continued: "I mean it. So far, you have been all that and a bag of Cheese-doodles when it comes to what you do to me in the bedroom, but if the amount of your come shot decreases, you might not be getting any of this…" 
The little lady leaned back, lifted each hand under each heavy tit, and spread her legs. Seeing that she was wearing tight high shorts and just a T-shirt, I certainly was transfixed on her undulating across from me.
"Beth."
"Don't think I'm serious?" she said, still staring hard at me. "Sure, I'll let you suckle a bit, eat my ass per usual, but you're not gonna come around me until I know you can deliver each time. I see a slacking off of your yield; you'll be put on rations, mister."
Beth lifted her burger and went back to munching as my world was thrown off its axis. 
Chastity, denial, come control, I was familiar with the terms and concepts but had yet to get into much beyond some bed partner taking her time or the occasional lady getting into a quick grab and tub then stopping to tease me. I liked the overall concept of being denied—for a while—but had never entertained much more of this particular pursuit. I had seen plenty of cock cages and read about chastity, surely. But this just was not an interest of mine, like mutual spanking, rimming, and making a woman dress for me, was.
But my mind was spinning over what Beth had said. I didn't want anything coming between the excellent time we had been having for the past two months. She certainly liked a hearty yield, and so far, I had been delivering to her standards. But for the first time, I was considering my reserve and how to conserve it. Which was pretty damn hard considering I masturbated a good deal (lots of the time over thoughts of Beth), and she and I were not yet exclusive. 
I was a thirty-five-year-old guy with a part-time job I made good money at, and I fronted a band I had lots of female company. And I liked to have sex with that company. Sure, not everyone I met was as attentive and willing as Beth— nobody actually was—but if I began to 'share' myself, would I have enough come for her? So far, I had, but when I began to consider my life over the last few months, I was on a rather slow streak where dating other women was concerned.
Jesus, was I then considering some form of chastity?
If you'd like to hear more from Ralph you can listen to the Licking Non-Vanilla podcast where they discuss a variety of kinky subjects. You can follow them on Twitter.