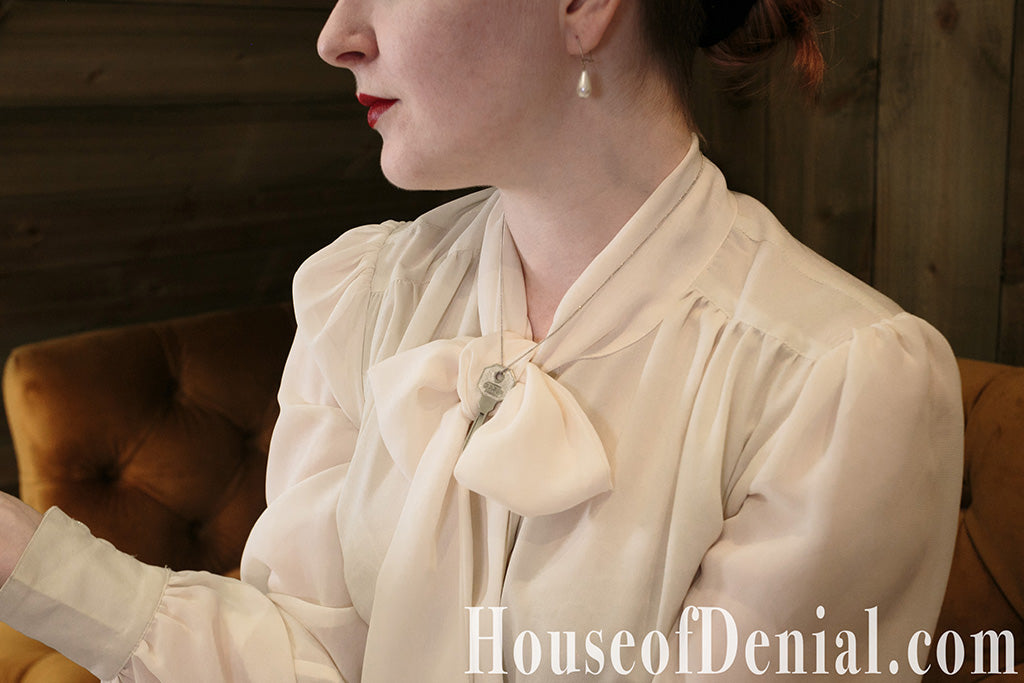 Desire is a complicated emotion. Feeling connected to my body sexually has always been a rollercoaster of emotions and while I've fantasised about chastity and the thrill of giving my partner total control, I've struggled to consider what that might actually look like. Chastity is often associated with people who have a very high sex drive, as a way to focus their mind on things other than pleasure and release, as a way to suppress their impulses. But for someone like me who struggles with feeling regular arousal I worried that enforcing chastity would only make my situation worse, I feared that if I was not allowed any sexual contact then my want for it would dwindle further. I'm delighted to share my recent adventures with you and reassure anyone in my situation that chastity can actually aid the cultivation of sexual energy and desire! In my experience, taking away the option of sex also alleviated the pressure I was putting on myself and created a new kind of craving within my relationship.
I was almost out the door when I had a sudden change of heart. Dropping my bags I ran back upstairs and started to strip off. Comfy trousers and a baggy t-shirt are practical but maybe tonight should be different. I rummaged through my lingerie drawers pulling out various options  "Sporty? Lacey? Floral? Strappy... Straps, she likes straps!" Throwing a bunch of lingerie onto the bed I hunted for suspender belts and after just a few minutes I had a heap of possibilities. Carefully I considered the options, not quite knowing where I was going with this new excitement and what the evening could have in store. It's been a while since I felt enthusiastic about getting dressed up for my girlfriend, or myself in all honesty, but I'd started now and maybe this was the kick I needed to feel sexy again. I chose a simple but alluring set and felt my heart race as I slipped on my panties fantasising about her slowly peeling them off again later.
Rummaging through my wardrobe, trying not to get too distracted by all the clothes that definitely wouldn't fit anymore, I found a suitably short skirt that almost covered my stocking tops; feminine, tight fitting and something I knew she wouldn't be able to resist me in.
What started out as excitement had turned to dread by the time I reached her house. I shuffled outside the house, tugging at the hem of my dress and wondering how on earth I could get out of what my outfit was suggesting. My stomach tightened as she opened the door and I could see the arousal in her face the moment she set eyes on me. "I can do this" I told myself silently, trying desperately to repeat every reassuring phrase I could think of in my head.
She was holding me, tracing fingertips up and down my back, feeling for the outline of what I was concealing under my outfit. Her breathing heavy and close, her smell intensely captivating. I yearned to be close to her, to feel desire for her but the tightness inside of me felt like a rock weighing me down, gluing me to the spot. My mind flooded with uncertainty, mocking myself for how ridiculous it was that I knew I wanted her and yet I'd somehow tripped a fuse and the circuit board to my arousal was completely turned off. How is it possible to want to be as close as physically possible to someone who you're insanely attracted to and simultaneously wish you were anywhere else. Why had I initiated this? Why did I have to put on this stupid, skin tight skirt? The stockings, they were too much. I should have left when I originally intended to, in my lounge wear, and we'd be cuddled on the sofa by now instead. This was a bad idea and it was all my fault.
Flashbacks. Painful, disgusting memories filled my mind. Had past trauma also been my fault? Was I asking for it then too?
Spiraling, I'm spiralling. This is not the same situation. I'm here through choice, I want to be with her but I just can't break the association between previous trauma and having a nice evening with my girlfriend. I don't have to have sex with her. I want to but.. I can't.
Sensing my discomfort, she asked me to put the kettle on and excused herself to finish off some work admin upstairs. I felt sick to my stomach. Why can't I just be normal? Why can't I just come over and have a sexy evening with the woman I love, why does everything have to be so difficult?!  My mood had dropped and I tried to calm down. I wanted to be out of the situation and now I was. But the disappointment was hard to accept. Bringing myself back to the present moment I realised that what I'd been craving was intimacy and by freaking out, berating myself and getting caught up in assumed expectations I was driving that connection further and further away.
Feeling brave, I took us both a cup of tea upstairs and stood in the doorway to her office.
"I want to be intimate with you" I blurted out, "...but". She looked at me confused "...but I don't want to have sex". Cringing, I held my pose, and tried to sound positive. Her radiant smile was reassuring and as she came towards me I began to relax. Leading me to the bedroom she dimmed the lights and pushed me onto the bed.
"I was never planning on having sex with you."
Her words echoed in my mind. I felt a weight lift from me as I realised the pressure had been entirely self-inflicted. I smiled and leaned in to kiss her but she put a finger to my lips. "Wait" she commanded; her dominance was seductive. Slowly and purposefully she unzipped my skirt and pulled off my blouse before instructing me to stand against the wall for full inspection. My cheeks flushed as I felt her eyes studying every inch of my skin taking her time as she admired the lingerie I'd chosen.

She summoned me back to bed and my heart raced, I'd never seen her so powerful and it was intoxicating. Firmly she began massaging my shoulders with her soft hands. With every motion I felt her intent, she was rough yet authoritative as she kneaded my skin and sent me into a dizzying contradiction of pleasure and pain. Excitement rose as I felt her breath warm on my neck, sending shivers down my spine as she sank her teeth into my vulnerable flesh. I gasped only to be met with a firm slap to my thigh. Feeling suddenly obedient, I writhed under her touch and tried hard to withhold my moans. Goading me, she forced me onto my front and spanked me increasingly harder until I let out a lustful groan. She laughed and expertly removed my bralette. Shoving it into my mouth she tied the clasped ends together behind my head forming a cloth-gag and sat back to admire her work with a satisfied smirk.
The mixture of embarrassment and desire was overwhelming. My hips writhed into the duvet as I arched my back begging her to spank me again. I craved her touch more than ever before and seductively crawled to my knees, displaying myself wantonly in front of her. My earlier hesitations had melted completely and I felt excited in the bodily sensation of complete arousal.
From behind she kissed my thighs and undid my suspender clasps, slowly she rolled down my stockings one leg at a time and pushed me over to sit in the middle of the bed. I leaned towards her, desperate to kiss her; to feel the warmth of her soft lips against mine. The anticipation was unbearable and I became incredibly aware of my erect nipples straining to be touched. I closed my eyes and waited, the warmth of her skin so irresistibly close.
To my surprise she grabbed my arms and tied them to the bed frame. The nylon of my stockings caressed my wrists as I tentatively pulled against them. I lay back, head on a pillow, arms bound to the bed, wearing nothing but my suspender girdle and panties, considering just how differently I'd originally fantasised about this moment. Realising the limits of my imagination and feeling excited at her taking control.
I remembered her words as clearly as when she spoke them "I was never planning on having sex with you" but surely that was just her teasing. I hadn't felt this level of arousal in a while, in fact, I'm not sure I had felt this level of turned on... ever. She was driving me wild with anticipation and for a moment I considered begging her to remove the last of my underwear and fuck me senseless but, as though reading my mind, she began slowly taking off the remaining lingerie to expose me completely. Pausing for a moment to enjoy my body, she came in close, crawling over me, and began kissing me. Through the gag I struggled to kiss her back, she ran her tongue along the most sensitive part of my inner lip and I thrust my hips up to meet hers.
Never have I felt such a longing to be fucked, to feel her tongue caressing my clit, her fingers thrust deeply inside me. My whole body craved hers, desperate to be entwined, to feel her glistening labia glide over my thigh and press against me. I lust after her touch, feeling an urgency and need to show her how wet she'd made me. I needed her to know just how passionately I wanted to fuck her too.
A gentle vibration started up between my legs. She spread my limbs wide and focused on guiding the small vibrator along the places she knows I can't resist. Immediately I felt my climax building and let out a moan through the fabric gag. Still fully clothed I could feel the warm dampness of her arousal on my thigh. Not even her jeans could keep the secrets of her desires. I pulled against my restraints, desperate to feel her, to slide my hand inside her clothing and feel the warmth of her body.
"Don't you dare" She threatened, turning off the vibrations.
Fuck. I needed this, I needed her to touch me, to allow me to touch her, anything. But instead she sat back revealing her smug expression. Puzzled, I waited. She untied my wrists, commanded me to kneel on all fours and moved behind me for a better view.
"You said you didn't want to have sex so I'm letting you choose." Her voice sounded calculated as she placed a strap-on harness in front of me. "I'll allow you to fuck me now or you can stay there and continue to wait in the hope that maybe, one day, I'll touch you again."
Confused, I picked up the harness and looked around for the double-ended insertable. "Just how likely do you think it is that I'll fuck you?" She enquired, laughing menacingly. I blushed, suddenly realising the weight of my decision. "You made a good choice," she continued "your chastity begins now." Handing over one of the harness dildos she began to undress but stopped when she caught me watching. With her hand on my throat, she manovered me onto my back and re-tied my hands with the stockings. She grabbed a blindfold from the bedside table and everything fell into complete darkness. I lay still, contemplating what was about to happen. I was wearing a strap-on but couldn't see anything, couldn't move or go anywhere. How did she expect me to penetrate her…
My thoughts halted as she clambered over me, the feel of her thighs straddling me was magical and I strained to see anything through the blindfold. I felt her lower down onto the dildo and a moan slipped from my lips, If only I could see how beautiful she looked in this moment. Faster and harder she started to ride the strap-on, and delight washed over me as I gave into the humiliation of being used as her sex toy. My clit throbbed with each movement she made, though knowing it'd be a long time until I felt any stimulation for myself. I soaked up every moment of her pleasure and fantasised about one day handing over a key to her. Gasps and moans filled the room as she dug her nails into my skin. I could almost feel how hard she clenched as her climax took over and sent her into a dizzying state of bliss.
It's been thirteen long days since my chastity officially began and all my initial fears have succumbed to complete and total longing. Desire has become my focus and I'm yearning for the moment she releases me and allows the forbidden treasures of orgasm to once again soothe my hunger.