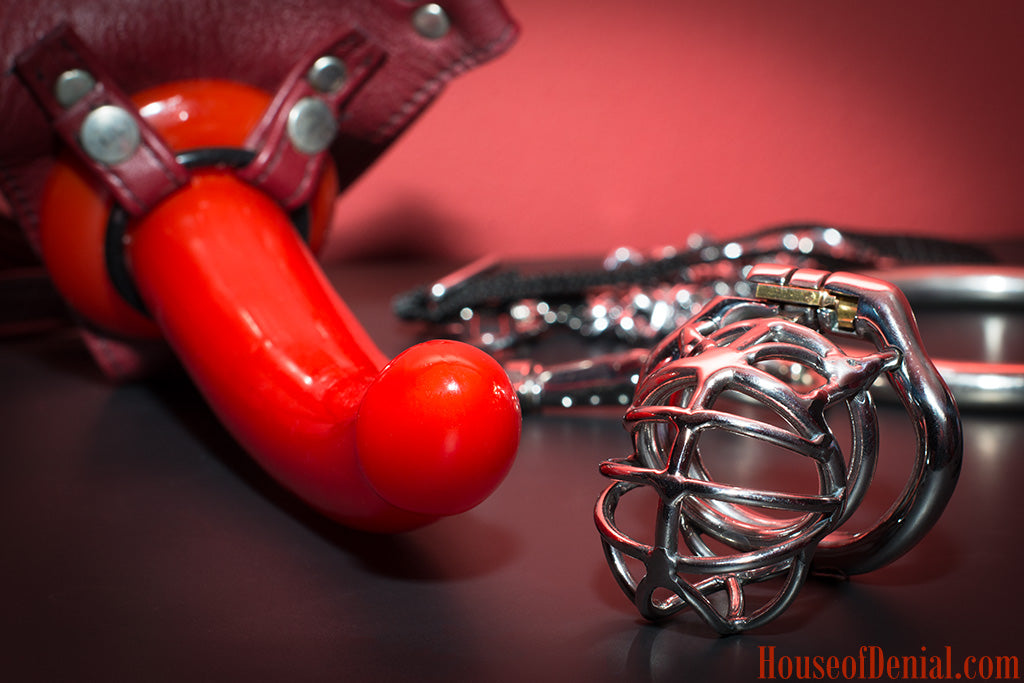 This is part 2/2 of our chastity, forced bi and FemDom story. If you missed the first part you can read part one here. 
Everyone involved in this story is a consenting adult over the age of 21.
Mistress H reached out and picked up a thick wooden cane out of a basket on the floor. She walked behind me and the sound of floggers swishing behind me drew my attention. Mistress K had started to flog her new slave and I felt a tingle of jealousy. The first impact on my exposed buttocks from the cane quickly made me forget, then the second, third, fourth and fifth made me dribble down myself as I lost partial control of my body.
"What a mess you've made already," Mistress H proclaimed with glee. She drew the cane back again and I flinched as I anticipated another harsh impact.
"Don't you dare move," she barked, her tone shifting from playful flirtation to strict disciplinarian. Rather than giving me the chance to obey, the devilish goddess placed her free hand on my stomach and whipped the cane across my smarting arse another five times. With her hand holding me firmly in place I couldn't move my body to mitigate the impact, so they struck powerfully every time. The hard wood bit into my supple skin and began to leave deep red lines.
I bit down on the red ball gag as another barrage of strikes from the cane beginning at the top of my arse cheeks then moving down the back of my thighs sent shots of pain all the way through my body. The intensity only increased and I began to sob, tears running down my face onto my now shuddering chest. Mistress H didn't relent for a second. The only thing I could do was try to manage my breathing and forget about the pain in my feet as I balanced on my toes.
The unabated beating ceased, but not for long. Mistress H dropped the cane on the floor and grabbed a long leather single tail whip from the wall beside us. As I tried to take a moment to compose myself Mistress H grabbed me by the waist and spun me around 180 degrees. I lifted my chin up, which had sunken down to my chest in a moment of relief, to see Mistress K flogging her submissive, who was tied down onto the fucking bench. With a flogger in each hand she expertly flicked them in a hypnotic motion hitting the back and arse of her target with laser beam precision. The spanking skirt left her butt exposed and I watched her cheeks bounce with every movement. My time to appreciate this delightful sight quickly ended.
Mistress H drew back the whip in one hand and in one swift motion cracked it from distance across my upper back. My whole body convulsed and the tears that I'd managed to hold in came flooding out of me again. When the second and third cracks from the whip landed flush against my side I reacted by lifting my legs up off the floor in a useless attempt to defend myself. This angered Mistress H, who dropped the whip on the floor and I heard her heels clicking on the floor as she walked around the room. She came back over to me and attached some leather cuffs to my ankles and tied my legs wide apart to some o-rings that pulled up from the floor.
"You'll take what I give to you," Mistress H said to me as she stood up, grabbed my chin and forced me to look into her fierce eyes.
"Let's play a little game. At some point this evening I'm going to stick my huge cock into your ass. For every five cracks from my whip that you're able to take before relenting I'll add a squirt of lube to my cock before I penetrate you. If you fail to take five I'll fuck you dry. Do you understand?" I nodded my head up and down knowing that this was going to be an unenviable challenge.
"I really want to push and challenge you, so I won't stop until you tell me it's over. To stop, I need you to click your fingers on your right hand. Can you do that for me, slave?" she asked. I nodded again and clicked my fingers to show that I could do it.
"Good. The game starts now. We'll start again from one."
Mistress H gave me a very provocative smile and my eyes sparkled in reply. This was everything I wanted our first play encounter to be. She was breaking me down minute by minute and I wanted nothing more than to please her. The latex clad dominatrix then turned me back around as she walked back to her whipping position so my back was once again towards Mistress K. She wanted my full attention and had certainly earned it in that moment.
She reached her standing spot, turned back towards me, swung the whip above her head and fired it so that the tip of the whip connected perfectly with my thigh. I screamed into the gag and more spit dribbled from my mouth. The remaining four strikes all struck around the same spot on my thigh and the pain intensified after each one. I managed to strain my neck down and saw a thick red blob appear on the surface of my skin.
Mistress H looked intently into my eyes. She gave me a few moments to click my fingers and quit, but I didn't want to. I wanted to go on and see what I could take from her, so that's what I did. Instead of clicking my fingers I confidently raised my chin and straightened my legs. The sadistic dominant before me raised her eyebrows, grinned then swung the whip again.
This time she targeted the rear of my thighs on the same side. The whip wrapped around my leg and caught the back of my thigh where she'd caned me earlier. Feeling the whip catch the already pummeled skin took my breath away for a few seconds. It felt like I was floating before the searing pain took hold of my nervous system. It felt like she'd just held a pair of jumper cables attached to a car battery to the nerves in my legs, and this was only the first of five quick and devastating blows that she administered upon me. As the fifth hit caught my thigh my knees jolted, but with my ankles anchored to the floor it did nothing to sooth the pain.
Mistress H gave me another few seconds to see if I'd wilt and give in, but I resisted the temptation to click my fingers. She flicked her whip and started to pummel my other thigh then back with a combined ten strikes. My head was now floating and I almost felt detached from my throbbing body. Goddess moved back a step and I could see the creative juices flowing and the cogs turning in her head. A flicker in her eyes struck fear into me. She was up to something.
The ravishing beauty pounced on me in a flash and before I knew what was happening she pressed her flushed chest against me, reached up to my wrist restraints and undid them. It took everything I had to not fall to the floor.
"Hold onto the straps above your head and don't let go. I'm going to undo the restraints on your ankles and you're going to turn round to face your Mistress. I'm going to get my favourite bull whip and finish by marking up your back. I'll remove the gag in your mouth and I want you to count out each time I lash you. There will be twenty lashes in total. Here's the catch. If at any point you let go of the restraints we'll go back to one and start all over again. Once we finish you'll get the privilege of worshipping my heels. Do you understand what I've just told you?" I looked into her eyes and nodded my head.
With my legs trembling she reached above my head and undid the restraints. I was just thankful to not have to balance on my toes and immediately put my aching feet flat on the floor. I looked down as Mistress untied the ropes and I noticed the devastation that Mistress H had inflicted on me. My thighs were both a deep shade of red and my back stung all over.
"Turn around and face Mistress K," Mistress H ordered. I gingerly edged my feet to turn around. I wasn't expecting the sight in front of me. Mistress K had removed her spanking skirt and stood assuredly with a long red rubber strapon cock held in a harness between her legs. She looked a picture of perfection with her smooth legs accentuated by the shiny black heels on her feet. Her eyes bulged and she smiled looking at the fresh bruises that now covered my lower body.
"Looks like you've had fun my darling slave," she said with a wide smile and walked over to me. She reached behind my head and removed the ball gag. I took a gasp of air and licked the drool off my lips.
As I smiled back at her I felt an overwhelming pain across my back as the bullwhip lashed me for the first time. I cried out in pain and let go of the straps in my hands instantly forgetting the instructions Mistress H had given me.
"Get your hands back on the restraints," Mistress H shouted from behind me. The pain from a single lashing was excruciating, but I took a breath and reached up with sweaty hands to hold on to the straps.
"Don't forget, I want you to count each time I whip you. You still have twenty to go. Here comes the first one again."
The next ten minutes were some of the most challenging and painful of my time serving any dominatrix. The tip of the whip cutting into the skin across my back made me cry, wail, scream and beg for mercy. Mistress K looked on with pride as I pushed through the agony and clearly spoke each number in order. I nearly screwed up once, but took a moment to think and remembered the right one. I don't know what I'd have done if I had to start all over again. Honestly, I think it would have destroyed me and I would probably have clicked my fingers to make it stop. Thankfully it didn't get to that point.
"He did very well didn't he?" Mistress H asked Mistress K.
"I'm very proud of him, but it was quite disappointing that he failed on his first attempt. It's OK, I think we have the perfect punishment for him coming up."
"I really can't wait. Would you mind getting slave B ready?"
"It will be my pleasure," Mistress K said, clearly excited with what they'd planned for me. She turned around and walked over to slave B, who was still strapped to the fucking bench. Was she going to fuck his arse with me stood here watching? It surprised me a little thinking that it would be so hot to watch her fuck another slave when I'd always thought I'd get jealous and not like to see it.
"You're far from done yet, slave D. Get down on your hands and knees and worship my heels. You're only allowed to use your lips and tongue."
"Thank you Mistress." I ached all over, but getting down on my hands and knees was a massive relief. Not only was I able to rest my legs, which were still trembling, but I was about to have the honour and privilege of worshipping Mistress H's high heeled shoes. Her clicking heels stopped next to my lowered head. She grabbed my hair and forced my head down to her metal heels.
"Start with your tongue. I want to see it lapping at the leather." I didn't need to be asked twice. I swirled my tongue over the shining black patent leather covering her toes working my way keenly to the heel. I flicked my tongue over the heel and turned my head to look up and see Mistress H's reaction, but before I had a chance to see her she pushed my head back down.
"Don't neglect my other heel," she reminded me. I swapped over to her other heel as she stepped out of the shoe I'd just licked. Her bare foot now stood flat on the floor and I went to work cleaning, licking and kissing her shoe.
"Sit up on your knees and massage my foot," was her next command. I put my shins flat on the floor and sat on my tingling bum. With my cock cage hanging securely between my parted knees Mistress H placed her pedicured foot on my freshly bruised thigh. Softly running my fingers along the balls of her feet provoked a very positive reaction and the excitement made my cock dribble onto the floor.
"Dirty boy," Mistress H announced to the room as she noticed my pre-cum pooling under my cage on the floor. "I think it's time to get him locked in the stocks Mistress K. Are you ready Mistress?" she asked.
"Yes please. This is going to be a dream come true."
What did she mean by that? I'd soon find out.
Mistress H sadistically pointed her toes and poked them into the red marks on my thighs. I let out a pathetic yelp, which seemed to amuse the deviant dominants as they started laughing. The cruel goddess then hooked her finger into the o-ring on my collar and beckoned me to follow her across the floor to the wooden stocks. Mistress K raised up the top half of the stocks and I placed my head and wrists inside the holes without any resistance. With her rubber cock flopping inches from my face I was fully expecting her to lock me in place and fuck my face. That wasn't what happened. Well, not exactly.
Once the top half of the stocks had been lowered securing me firmly in place, Mistress H put a heavy padlock into the latch on the side and clicked it shut. As Mistress H walked away behind me, Mistress K knelt down so that we could look directly into each other's eyes.
"Tonight you're going to do something for me, well, something both Mistress H and I have been wanting to do for a while now. She messaged me yesterday and asked if it was something I'd be open to and I couldn't say yes quick enough. Do you know what that might be?"
"No Mistress," I replied telling the truth.
"Could you bring the Jennings gag from my bag please Mistress H? I want it close by just in case he decides to get uncooperative."
"Great idea Mistress K. I'll bring it over with everything else."
"Thank you. Are you ready?" she asked.
"I am. Please get us started."
Mistress K smiled at me then turned around and practically skipped over to the fucking bench. She unstrapped slave B, whispered something in his ear and he stood up and followed closely behind her as they walked towards me. He then stood with his hands behind his back and Mistress K cuffed them. Mistress H then came over and posed elegantly next to him. She'd put on her own strap-on harness with a thick 7" multi coloured cock and a pair of black latex gloves. She took him by one arm and led him a meter in front of me.
"Spread your legs apart and lift your wrists up," Mistress H ordered him as she squirted some lubricant from a small bottle and coated her fingers liberally. She reached behind him and slid two fingers up inside his arsehole. While she massaged his prostate his huge cock got very hard.
"I've told you for years that you're my filthy cock slut and until now you've only sucked on a strap-on, but today we're going to step up your training, slave. Mistress H has very graciously offered slave B up for me to use. I've told Mistress H how much of a cock hungry whore you are and how impressive it is when you deepthroat my strap-on. We're now going to see how well you get on with the real thing. Now, open your mouth nice and wide."
I started to sweat and clenched my hands on the wooden stocks.
"We also talked about watching him fuck your tight arse, but I want to have my way with you instead," Mistress H added.
"If you try to resist I'm going to put this Jenning's gag in your mouth so you can't stop it from happening. I don't think it's going to come to that though is it because you know how much I've wanted to do this for a long, long time and you love nothing more than pleasing your Mistress," Mistress K added in a soft and seductive tone.
"It would be my honor, Mistress," I replied honestly.
"That's what I thought." She ripped open a condom wrapper and expertly slid it from the tip to the base of his stiff cock. Mistress H then reached over with a small bottle in her gloved hand.
"Inhale deeply." She closed one of my nostrils with her finger and I sniffed up the fumes from the bottle. I'd tried poppers before and the head rush came as no surprise when it kicked in.
"Open wide!" Mistress K demanded with a huge grin on her face. She knelt down between slave B and I and pulled his cock until it was close to touching my parted lips. At the moment she tugged him so that he entered my moist mouth Mistress H slipped two lubed up fingers inside my arsehole. It took me completely by surprise and before I realised what had happened Mistress K had thrust slave B forward, his cock now filling my mouth. With the condom on his cock it didn't feel much different to the strap-on dildo's Mistress K had fucked my mouth with countless times before. The thick wooden stocks prevented me from pulling back and away, but it also stopped me from bobbing my head to suck his cock like Mistress K had trained me. She didn't seem to worry about that.
"Take another step closer and thrust your hips. I want to see you fuck his face," Mistress K purred. Without any hesitation he did exactly what he was told and his massive cock sunk deeper into my mouth and throat. I nearly choked then did moments later when Mistress H stuffed her rubber dildo into my arse. I already felt comfortable and loose, so she thrust her hips and sensually penetrated me slowly to start then speeding up to fuck me more aggressively. When she grabbed my shoulders and fucked me harder the tip of her cock tickled my prostate, which felt incredible and encouraged me to suck slave B's cock like a lollipop. Pre-cum leaked uncontrollably from the opening at the end of my chastity cage and a shallow puddle quickly formed on the floor between my legs.
"I told you to fuck his face! Let me show you how to do it." Mistress K stood up and pulled slave B's rock hard cock out of my mouth. She quickly replaced it with her flexible rubber dildo and, while gripping my hair between her fingers and balancing on her spiked heels, thrust forwards to forcefully fuck my willing mouth. Both Mistresses probed my holes repeatedly, my body being used entirely for their pleasure and entertainment. As my eyes rolled back into my head I spotted a jubilant smile on Mistress K's face. I was in submissive heaven.
"Think you can fuck his mouth like this, slave?" Mistress K asked as she looked toward slave B. He nodded his head in reply.
"Come here and take over," she demanded as she pulled her cock out of me while maintaining a firm grip on my head. As slave B stepped forwards and stuck his throbbing dick back into my mouth, Mistress K vigorously shoved my head up and down bouncing on his erection at such a rapid speed I got a bit dizzy.
With Mistress H gyrating her hips and squeezing her strap-on cock quickly into my stretched arsehole a familiar feeling started to build in the pit of my stomach. At first it felt a little uncomfortable, but as the minutes passed I knew exactly what was happening. My prostate had been stimulated so much I was going to cum.
"I know that look," Mistress K gleefully proclaimed as she looked into my bulging eyes. "He's going to cum soon Mistress H." I felt her heeled foot scrape against my bruised thigh as she wrapped it around my leg positioning it right under my caged cock.
"Cum slave. You have my permission. I want to feel your hot spunk spurt all over my heels." I didn't need to be asked twice. With another few strong thrusts my body shook with excitement, my smarting ass cheeks bounced against her pelvis and my mouth ached as it was repeatedly violated by slave B's penis. I'd reached the point of no return.
Time seemed to stop still for a moment, or at least it felt that way. My whole body and mind relaxed and I was catapulted into a cloud of pure ecstasy. Warm cum spurted furiously from the tip of my confined cock. I hadn't cum in weeks and, after weeks of relentless tease and denial, edging and a hard fucking, my balls were full to bursting point. My helpless cock pulsated and pressed against the inside of the cage while my muscles convulsed wildly. The mix of euphoria, satisfaction and fulfillment overwhelmed me and I nearly burst into tears of joy. I didn't get the chance to bask in the glory that had been bestowed upon me for too long.
Mistress H pulled her cock out of my arse at the same time Mistress K pulled slave B backwards, his cock sliding out of my mouth with my lips locked around it. The instant his throbbing dick left my lips, Mistress K whipped the condom off and pushed a squishy silicone open ended male mastabator onto it. She led him away, stroking his impressive member softly and speaking to him as they walked. At the same time this was happening Mistress H unlocked the padlock on the side of the wooden stocks and lifted the top, freeing me from my restrained position.
"Come over here, get down on your knees and clean up the mess you've made of my shoes," Mistress H demanded as she stepped aside and pointed to the floor. I stretched my back as I rose up and quickly dropped to my knees to lap up the thick cum that covered her shiny heels. With my still shaking hands flat on the floor I licked and sucked every drop of cum that the mesmeric goddess had milked out of me. When she noticed a small drop of cum that I'd missed she grabbed my hair and forced my face towards it so that I could finish the task properly.
As soon as I'd finished Mistress H lifted my head and pushed a rubber coated jennings gag into my mouth. She then stretched it slowly until my mouth was wide open. The gleaming smile that broke out on her face as she looked at me filled me with a huge sense of pride.
"He's ready," Mistress K declared. With my head spinning and the blissful head space I was in I didn't notice that Mistress K had walked slave B over to us. Mistress H stepped behind me and pulled my arms back, restraining them securely behind me.
"Stick your tongue out, slave," Mistress K ordered as she pulled slave B's cock to my face again. I instinctually did as she asked then suddenly realised what was about to happen. With the gag holding my mouth wide open there was no stopping what happened next.
Mistress K continued to stroke slave B with the jelly masturbator, the bulbous head of his cock poking out the end close to my face. She increased the speed of her strokes and a groan escaped his lips.
"May I cum please Mistress?" he asked.
"Yes. Cum right now for us."
Seconds later hot spunk shot from his cock covering my face and outstretched tongue. The gag prevented me from swallowing, so the warm semen dribbled off my tongue coating my chest and chin.
"Filthy boy," Mistress H said with a joyful smile. She then scooped some of the cum off my chest and fed it to him, his tongue willfully lapping it up.
Mistress K carefully slid the masturbator off slave B's cock and placed it on the spanking bench behind her.
"Could you please cuff him and leave him there Mistress H," Mistress K requested. A pair of metal handcuffs were locked to my wrists and slave B's cum continued to drip from my tongue onto my chest. Mistress H took slave B by the wrist and pulled him towards the door we'd entered the dungeon through. Mistress K looked down at me, bit her lip and followed behind them out of the room. The door then shut behind them and I was left alone on my knees.
I had some time on my own to reflect on what had just happened. I'd been used and abused for the enjoyment and pleasure of two incredible dominant women. My cock twitched in its chastity cage thinking about the filthy play that I'd just been a part of. My jaw started to ache a little as it was forcefully held wide open, but this sensation paled into insignificance as I thought about the looks both mistresses had on their faces each time they looked at me throughout that evening. I was covered in another man's cum and didn't care one bit.
The door at the other side of the room swung open after what felt like a long wait. In reality I'd only been kneeling on the floor for around ten minutes, but after such an intense evening the loneliness slowed time to a crawl. Mistress H stood alone in the doorway, her spectacularly sexy figure looking towards me sent my heart racing once again.
"Well well. Wasn't that fun? I've been waiting a long time to get my hands on you and you certainly didn't disappoint," Mistress H said then started slowly walking towards me. She still had her strap-on harness and dildo on and it bobbed invitingly with each step she took. I nodded eagerly in agreement.
"I've just spoken to Mistress K and she's very happy with you. So am I, but you're still mine for the evening. In fact, Mistress K has allowed me to keep you for the night. Slave B has gone, so we're all alone."
As she finished her sentence she slid her cock into my gaping mouth, the rubber dildo tickling the back of my throat as she held it in place deep inside me.
"I'm going to coat my cock in slave B's cum, then I'm going to take the gag off and you're going to suck it all off. My slaves clean up their own mess, and seeing as you contributed to making slave B cum all over you I think it's only right that you swallow every drop."
Mistress H held my hair tightly in her left hand and swirled her thick cock around my mouth making sure that every drop of cum coated the smooth strap-on. Once the divine goddess was satisfied that she'd cleaned my mouth and tongue she removed the gag, scraped the cum that coated my chest with her fingers and glazed her cock with it. As I tried to lick my lips to moisten them, Mistress H did it for me by thrusting herself inside me, the wet fluid once again filling my mouth. She took great pleasure fucking my face, the harsh metal cuffs digging into my wrists as I tried half heartedly to resist and a sting of pain shot through my body as she dug her toes into my bare thigh.
"Well done," she said as she released my hair from her grasp and pulled her cock out of my mouth, a string of spit hanging between us as she stepped backwards.
"There's just one last thing before I lock you up for the night. Get yourself up and kneel on the floor in front of the spanking bench over there," she ordered then walked away to get something. I slowly got to my feet, the handcuffs restricting my ability to move normally. I did as she asked and knelt down in front of the bench. Mistress H returned having removed the strap-on harness.
"You've cum once this evening and I haven't yet, so I'm going to restore balance." Mistress H ran the zip on her latex catsuit down under and behind her crotch then sat with her knees apart on the bench above me. She wasn't wearing anything under the catsuit and her beautiful shaved vagina now presented itself.
"Come closer," she beckoned with her outstretched finger. I shuffled forwards on my knees until I was inches from her wet pussy. I could see beads of sweat dripping down her toned stomach. She clicked a button on the small bullet vibrator in her hand and held it against her clit, working it rhythmically in small circles.
"Look at you down there on your knees. Desperate to get a taste of me. Wishing you could flick your tongue against my wet pussy. Wouldn't that be a nice treat to end the day? Tough. I promised Mistress K that I'd deny you that privilege, but she did say I could squirt all over you. No touching though. You'll have to do a lot more to earn that honor."
Seconds later she wrapped her bare feet around my neck, let out a groan of pleasure and showered my face with her cum. The sheer volume of fluid squirting out of her took me by surprise and I let out an excited squeal. Hearing this delighted the dazzling domina and her face broke into a wide smile. This spurred her on and I sat expectantly with my mouth wide open and tongue stretched out. Thirty seconds of vibing her clit later and another flood of cum squirted out of her raining all over me. I swallowed everything that collected in my mouth and I stretched my tongue out again to prove I'd gulped it all down.
"Aren't you a good boy," she said as she lent down towards me and hooked her finger into the o-ring on my collar.
"I think I've had enough of you for one day, but maybe I'll have a little more play with you tomorrow morning before sending you back to Mistress K. Get up and follow behind me. You're going to sleep in my slave cage for the night and I'll come down in the morning to release you."
As I rose to my feet, Mistress H pulled me along behind her by the collar. She walked me through the doorway slave B had come into the dungeon through earlier in the evening. The small room we'd walked into had a dimly lit lamp in the corner, which partially illuminated a black leather topped cage. Mistress H let go of my collar and unlocked the door to the cage.
"Don't worry, I'll still be watching you. There's a camera up there in the corner that will allow me to see you. I've given Mistress K access to the camera feed, so she'll be watching you too. Any misbehaving will not be tolerated and you'll be severely punished if you do. Any attempt to play with yourself without my express permission will be dealt with in the harshest way. Follow my instructions exactly and you might just get rewarded with another visit. I have a feeling you're going to be good for me, so I won't lock the masturbation mitts onto your hands this time." The beautiful domina swung the cage door open and pointed inside.
"Get down on your knees and crawl in for me." I did exactly what she asked, her cum still dripping from my face onto the soft padded floor of the cage as I crawled inside. As soon as my full body was inside the cage Mistress H closed the door behind me, dropped a padlock into the latch and clicked it shut.
"Sleep well, slave D. I had a lot of fun with you tonight. Lets see what tomorrow brings for you. Don't even think about cleaning my cum from your face. I think I'll wash it off with my champagne nectar in the bath when I let you out. Something to dream about. Sweet dreams."
With that said she turned around and closed the door to the room behind her as she left. I sat alone in the dimly lit room, only the twinkling lamp in the corner providing any light. The thick metal bars surrounding me provided a confined space for me to lie down in and recuperate in anticipation of what might be in store for me the following day.
The bruises on my legs and back tingled as I lay down and I resisted the urge to wipe the cum from my face. I didn't want to ruin what had been an incredible experience, one I would like to repeat in the future.
Thank you for reading this story through to the end. I really enjoyed writing this one and hope you enjoyed it too.
I've written a number of stories now and always love to hear your feedback. Please leave a comment below and let us know if you're locked in chastity while reading it. I'm also happy to take requests, so if there are any kinks or topics that you'd like to see included in our next story please leave a comment.
If you'd like to read more you can read our other chastity stories here.
We always post links to new products, stories and articles on our House of Denial Twitter account, so please come and follow us to get the latest updates.