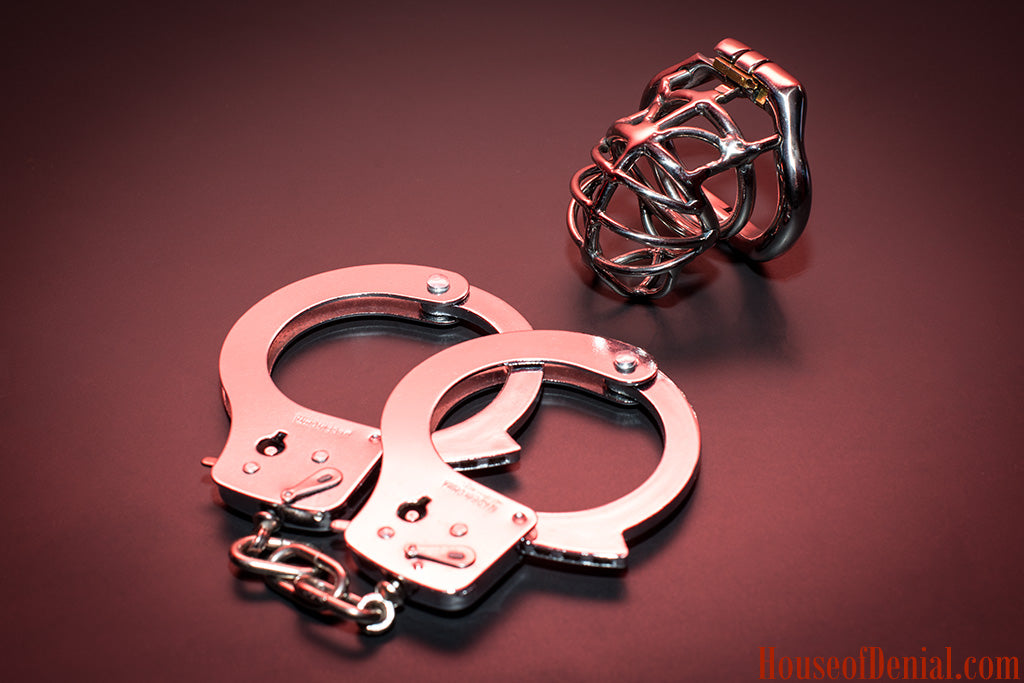 Once in a while an opportunity presents itself out of nowhere. You certainly weren't expecting it, but privately hoped that some day it might happen. You fantasise about scenes, scenarios and people who illicit a physical or emotional reaction that drives you wild with excitement. Well, sometimes dreams become reality, and that's exactly what happened in this story.
When the world wasn't in constant lockdowns and social distancing wasn't practised as a necessity to help save lives, Mistress K and I were more sociable beings. We attended kink events, went out for drinks and dinners with friends, travelled for work and leisure, and hired dungeons to play in on a weekend away from work.
A few years ago we met a deliciously devious dominatrix who quickly developed her skill set and built a reputation that was admired amongst her peers. She's incredibly confident, beautiful, open minded and passionate about kink. She met a handsome submissive man and they very quickly developed a strong, loving female led relationship. For the last few years they've lived happily in a dedicated FLR and we see them occasionally at events.
One Friday night Mistress K received a text message, the contents of which I wasn't privy to until the following day. This is where our story begins.
This is part 1 out of 2. A link to part 2 can be found at the bottom of the page.
Everyone involved in this story is a consenting adult over the age of 21.
Bing
I didn't register the sound of a text message being delivered on Mistress K's phone, which she'd left on our kitchen table. She was cuddled up under a soft blanket on our sofa watching a nature documentary when she yelled out to me.
"Slave. Bring me my phone please."
I turned from the stove where I was cooking a spaghetti bolognese recipe I'd been experimenting with for the last few weeks, picked up her phone from the table and took it into the lounge before going back to the kitchen to serve up our evening meal.
With our food plated up and now sitting on our dark wood dining room table I called to let Mistress know it was ready and took a seat. A few minutes passed. Eventually she walked into the room, sat down and placed her phone next to her on the table.
Bing
The lock screen on her phone illuminated showing that another message had been received. She quickly picked it up, read the message and bit at her lip as she put it down again. This time she placed the phone screen down.
Bing
Bing
She picked the phone up and walked out of the room. Around five minutes later she returned and sat back down.
"Everything OK?" I asked.
"Do we have any plans tomorrow?" Mistress K replied.
"I've got a few jobs to do but they shouldn't take more than a few hours. Other than that I don't think we have anything in the diary. Has something come up?"
"You could say that."
"Anything that I should be concerned about?"
"Quite the opposite. Nothing at all for you to worry about. I'll let you know if something comes of it, but we might have plans tomorrow."
"OK. Can I ask what the plan is and with who?"
"No, you can't. You'll do as you're told when I tell you. Understand?"
"Yes Mistress."
I left it at that. Her phone beeped a few more times, but she ignored it until she'd finished her food. Rather than waiting for dessert Mistress took her phone into the lounge to continue messaging the mystery texter. Instead, I took our empty plates into the kitchen, cut a piece of cheesecake and gave it to Mistress K in our lounge as she sat on the sofa. Her eyes remained intently focused on her phone the whole time I was in her presence.
"Thank you. Now, go and wash the pots and dishes before joining me."
"Yes Mistress" I replied then scuttled off back to the kitchen to do as I was told.
It only took around 15 minutes to wash, dry and store away everything that I'd used to cook dinner. I peeked into the lounge and noticed Mistress was no longer looking at her phone, so I joined her on the sofa. No further messages came through on her phone for the rest of the evening and I went to bed later that night not knowing what might be in store for us the following day. I didn't know if I should be excited or not, so I put it out of my mind by reading a book then falling asleep.
The next day I woke up, made breakfast for us both and carried on with my usual Saturday routine. The weather was dry and not too cold, so we went for a walk around a local park. When we returned to the house I removed Mistress K's coat and hung it up, knelt down to remove her boots then took them into the kitchen to wipe them down and give them a polish. I cleaned the bathroom, put some clothes in the washing machine and started to prepare dinner for that evening.
Bing
The unmistakable sound of a text notification sounded from our lounge and moments later Mistress K walked into the kitchen.
"Stop what you're doing. Go up stairs and get your ass and crotchless latex shorts out. Clean and polish them. I want them to be pristine. I will check. I'm going to need my black latex spanking skirt and white latex button up blouse washed and shined too. Hang them up in the bedroom once you've done it. I'll need them later."
"Yes Mistress. Is there anything else I can do for you?"
"Nothing more at the moment. Once you've finished everything you need to shower."
"Understood Mistress."
I turned the oven off, ran upstairs and filled the sink with warm soapy water to wash the latex. I gave it all a good clean, rinsed it all in some cold clean water then let it sit in some diluted latex shine solution.
As I jumped in a hot shower I started to think about what was to come for our evening ahead. At that time I still didn't know who Mistress K had been messaging and if anyone else would be involved in our plans. Would we be going somewhere? Would we be doing something at home? The more I thought about it, the more my mind spun and the excitement continued to build. I scrubbed my arse, washed my hair and had a quick shave then dried off and took all of the latex garments into our bedroom to hang them up. Mistress K was waiting for me there.
"Do you know what the plan is for tonight," she asked casually looking up from her phone.
"No Mistress. I'm very curious though."
"I think I'll leave it as a surprise, but before we go ahead with anything I need for you to review your slave and consent contract."
Hearing that sent tingles down my spine and threw me for a moment. She leaned back, pulled open the draw next to our bed and pulled out a folder that contained my slave contract. She opened the folder and placed the paperwork on our bed.
"Sit down, read through everything again and make sure that it all still applies. I'll leave you to read through it and we can discuss it again when I return." Mistress K stood up and left the room.
What the hell was happening?! I signed my FLR and slave contract to Mistress K years ago and we routinely go through the terms I'd consented to at least twice a year, though this happened more regularly if she wanted to try new things or for surprises like that night. Consent is of paramount importance to us both, so we speak openly and honestly always. This has helped to build a level of trust in each other that allows us both to be ourselves and enjoy each and every experience to the fullest.
I carefully reread the whole contract and list of things that I consent to. As much as some people like to fantasise about being a slave to a Master or Mistress with no limits, it's just not safe and sensible. My stance on the list remained the same, but by looking through it the numerous kinks and scenes that we hadn't yet tried highlighted the possibilities for my evening ahead. Our list is very extensive and we regularly add to it when we learn about new things. Our rule is if it isn't on the list I haven't consented to it and it therefore can't be tried until a discussion has been had.
Our slave contract is in no way legally binding, but it has very significant personal and sentimental value to us both as a D/s couple.
Fifteen minutes later Mistress K walked back into the bedroom and sat down next to me on our bed.
"Do you have anything to tell me?" she asked.
"No Mistress. I've read everything from start to finish and I haven't changed my mind. I consent fully to everything that I've agreed to in the contract."
"Excellent. Stand up and present my caged cock to me to be inspected."
I rose up from the bed as Mistress K put my slave contract back into the folder then into her bedside draw. She sauntered casually around the bed, sat down on the corner and clicked her fingers beckoning me towards her. I stepped forwards, spread my legs shoulder width apart and clasped my hands behind my back. This is expected of me everytime Mistress K wants to inspect her caged cock. She carefully checks the lock to make sure that it hasn't been tampered with, which I've never attempted before, but it's still part of her routine. She then runs her soft fingertips over my balls to make sure I'm well groomed and shaved smooth. Finally, she checked for lumps. You can never be too careful and my loving goddess cares deeply for my continued good health.
"Turn around, bend over and grip your ankles," Mistress instructed. I knew that I'd cleaned myself thoroughly, so I wasn't worried that a punishment could be coming.
"Perfect. Nice and clean. Well done. Put on your latex shorts and make sure you get rid of any fingerprints or smears once they're on. I'm going for a shower, then you're going to paint my toenails and help me to get dressed." She stood up and left the room. I heard the water flow from the shower head in our bathroom across the hall moments later.
I picked up the latex shorts and slowly squeezed into them, being careful not to catch and tear the edges on my cock cage. It only took a few moments to get them on, so I checked the material in our floor length mirror and touched up any blemishes with some latex shining fluid.
As I carefully inspected the latex for marks our consent list came back into my mind. What did Mistress K have planned for tonight? I still had no clue as to what was coming. Clearly it would involve my arsehole in some way seeing as she'd inspected it to ensure it was clean, but other than that I was baffled. Nothing jumped out at me on our list and she hadn't brought up anything on there recently that we hadn't experimented with before. Maybe she was trying to get to me psychologically and it wasn't anything new at all. If that's what she was doing, it was working.
The bathroom door in our hallway opened and Mistress K walked naked into our bedroom. Her ample breasts glistened as the light from the overhead spotlights in our bedroom pinged off the water droplets that still covered her heavenly body.
"Come here and dry me off," Mistress K ordered as she held out a soft white towel in her right hand. I took the towel and delicately dried her body starting at her shoulders and slowly inching my way down to her dainty feet.
"Go and get my latex ready to put on. I'll need some dressing aid please," was her next request. I got to my feet and picked the first piece of latex, a white blouse top with a collar and silver buttons going up the middle, off a coat hanger that was hooked to the rear of our bedroom door. With the garment folded neatly over my arm I picked up a bottle of latex dressing aid from Mistress K's dressing table, squirted a small amount into my hand then coated the inside of the blouse including down the arms, which would enable my domina to put it on more easily. She held her arms back behind her and I slipped them into the sleeves then pulled the rest of the blouse up and around her breasts. I quickly wiped my slippery hands on the white towel and did up each of the silver buttons beginning at the bottom and working my way up. Her breasts strained against the glossy rubber and I felt a tingling inside my chastity cage as my cock tried, and failed, to get hard.
"Skirt next," she demanded. I picked the skirt off another hanger, coated the inside of the skirt with dressing aid and slid them onto her smooth legs one at a time. Once the skirt was on both legs I pulled it up to her waist. Her pert arse cheeks were clearly visible through the opening at the rear of the spanking skirt and when Mistress K noticed me looking at them she teased me by running her beautifully manicured nails across them. Before I had a chance to lick by lips to stop myself drooling an open palm slapped my face.
"I didn't give you permission to ogle my ass. Go and get my black 7" pleasers out of my dressing room."
With my face still smarting I stumbled out of the room into the hallway then into her dressing room. I scanned the shelves full of high heels that Mistress has lined up on one wall of her dressing room. She has a huge collection of knee high kinky boots, strappy shoes and sky high heels and proudly displays them next to a full wardrobe full of latex outfits, gloves, hoods and stockings. I eventually found them, a pair of shiny black patent leather 7" heels with a small platform, and gave them a quick polish with a cloth I found hanging next to a mirror. With these heels on Mistress K towers above me.
"Quickly!" Mistress snapped. I scuttled back into our bedroom and dropped to my knees ready to slip them onto her feet.
"Not so fast. You need to paint my nails first. Get my red nail polish from over on my dressing table then get down on your knees and paint my nails while I sort my hair." She seductively wiggled her way over to her dressing table and sat down on the stool in front of it. I followed behind her on hands and knees, reached up onto the table and picked up the bottle of deep red nail polish she had sitting there. I carefully opened the bottle and painted each nail with singular strokes of the brush. Once I'd finished I remained on my knees and softly blew on her nails to help them dry.
"Good boy. Go and get my heels and put them on me," Mistress requested. I crawled back over towards the bed where I'd left her high heels, crawled back to her and put each heel on. She rose up and stood high above me.
"Stand up and get your steel collar and leash out of the draw."
As I got up to my feet I noticed that Mistress K had tied her long flowing red hair into a tight ponytail. She usually does this when she knows that she'll be getting physically active. This generally includes spanking, flogging and pegging.
I sifted through the collection of toys we have in our bedroom draws and retrieved my stainless steel circular collar that has a D-ring at the front and a small screwdriver. This collar doesn't use a conventional padlock. Instead it has a small screw, which is loosened or tightened with a screwdriver making it impossible to remove without it. I also found a small padlock with a key inserted into it and a long metal leash. I held out the collar, which Mistress K opened, placed around my neck and screwed shut. She placed the screwdriver on her dressing table then attached the leash with the padlock. With a good tug she made sure it was fixed properly then put the padlock key next to the screwdriver.
Bing
The screen on Mistress K's phone that was sitting on our bed lit up.
"Go downstairs and meet me in the kitchen."
I picked up the end of the leash, held it in my hand and walked out of our bedroom as Mistress K picked up her phone and read the message that she'd just received. As I descended the wooden staircase leading down towards our kitchen my heart started racing. Who was texting Mistress K? Did it have anything to do with her plans? If yes, who was it and how did they factor into her plans? Was I overthinking this? Could it just be a coincidence? I'd soon find out.
I stood in our kitchen holding the leash and waited a few minutes. I then heard the clicking of high heels on the stairs and quickly turned round to see Mistress K walking with intent towards me. Her eyes were locked on mine and I noticed that she had a large bag in her hand. She looked absolutely divine clad in latex and my legs began shaking with excitement as she approached me.
"Turn around, put your hands behind your back with your wrists together." A bead of sweat dripped down my face and I turned my back towards her. The sound of rattling metal preceded the feeling of cold steel handcuffs being locked to my wrists. Her latex skirt pressed into my locked hands as she gripped my arms and pulled me closer towards her.
"I'm going to ask you one final time for your consent to carry on with my plan for this evening. From this point on I'll be in complete control and anything that you're involved in will be consensual. If at any point you want to stop, use your safeword or your practised signal if you're not in a position to speak. Do you wish to continue?"
"Yes please Mistress," I said confidently.
"Excellent. Let's begin. Turn around and face me."
As I turned I noticed a few things on the kitchen table next to Mistress K's bag. I saw two small pieces of foam, a red shiny ball gag, a leather gimp hood covered in straps and a zip across the mouth, and a set of car keys. My latex clad domme picked up the ball gag, pushed it into my open mouth and locked it shut using the attached straps behind my head. She then picked up the two small pieces of foam, rolled each one between her fingers then inserted them slowly into my ears. It was at that moment that I realised I'd lost the ability to hear anything. Finally, she picked up the leather hood, pulled up a zip at the back of the hood then winked at me before placing it over my head. I was plunged into darkness. She pulled the zip down at the back of the hood and it tightened around my face. It got even tighter when the clasps at the rear were locked together.
I stood with my legs apart trying to maintain my balance. With my wrists cuffed my biggest fear was falling forwards onto my face. Two strong hands grabbed my biceps and led me forwards. Without the ability to see where I was going or hear any instructions I tried my best to relax and let Mistress direct me. Tentatively I shuffled my feet forwards then turned right after a few steps when I felt my body being shifted in that direction.
Suddenly a cold blast of air sent tingles up my back. What was that?! Was I outside?! Was Mistress going to parade me around the street? I feverishly racked my brain for kinks that could involve being out in public. Did she want to experiment with public humiliation? I quickly felt my balls shrivel and tried to tuck themselves back up inside me, but a sense of relief came over me when I felt a hand pushing down on my head and I was pushed onto the back seat of a car. My legs were pulled round in front of me and a seat belt attached across my chest.
While I sat in the car I realised that my heart was beating hard. I thought I was a little closer to figuring out what was happening, but I was thrown back into a state of confusion when I realised we were going somewhere. I wouldn't have put it past Mistress K to drive around for a while then head straight back home to confuse me.
The car shook when she opened and closed the drivers side door then I felt the engine roar into life. A soft jolt forward was a sign that we were moving. I suddenly realised that I was hooded and had handcuffs on in the back of a car that was now driving down our street. My only hope was that no-one spotted me on our way to wherever we were going. The thought of being pulled over in the car and having to explain what we were doing to the authorities made me cringe.
Without the ability to hear or see anything through the hood I could only rely on any bumps in the road or the feeling of the car braking to slow down to have any idea of what was happening. I decided in that moment that if I ever got kidnapped that I'd be terrible at figuring out where I was being taken. Was I being kidnapped?! Maybe Mistress was going to drive us out to the country and fuck me on the side of the road somewhere.
Around fifteen minutes later the car slowed to a halt and I felt the engine stop. A cool breeze hit my bare skin again as the back door next to me opened and I felt the leash locked to my collar tighten. Mistress reached across me, unclipped the seat belt and pulled my legs towards the door so that I could stand up and get out of the car. Once I got up I could feel short grass under my feet and my domme's hands held my biceps directing me forwards. I tentatively inched forwards taking small steps then stretched out my strides trusting Mistress wouldn't let me fall. I instinctually stopped dead when she tightened her grip on my arms. She dropped the leash and the cold steel fell against my legs.
I waited.
And waited.
I stood there not knowing where I was for what felt like a lifetime. Was I being watched? Had Mistress just left me standing out in public with her caged cock fully exposed and my arse hanging out of the latex shorts? I couldn't feel, smell or hear anything. Did she want me to feel embarrassed and humiliated? My heart was beating very quickly and I again started to shiver as adrenaline shot through my whole body.
Suddenly I felt the steel leash tighten and I was pulled forwards. I took two steps and walked into an open palm forcing me to stop again. A tap on my thigh intuitively made me lift my foot and I walked up a step. I repeated the process and walked up a small flight of wooden steps and felt the hand on my chest again once I'd reached the top. Another tug on the leash made me walk forwards, but this time I walked a good ten paces and the surface under my feet changed from hardwood to soft carpet.
What was this game we were playing? Where had she taken me? I must surely be in a building now, but what building?
A pair of strong hands grabbed my shoulders and pushed me down with force, so I dropped to my knees. The carpet softened my fall and my heart rate slowed as I surprisingly started to relax a little. Seconds later an object was pushed between my legs and flicked between my thighs. A leather crop tapped my inner thighs a few times and I took it as an instruction to part my knees, which was confirmed when the impacts ceased after my knees parted.
I remained in that position for a while, knelt down on the carpeted floor. The metal handcuffs cut into my wrists and my thighs started to ache more with every second that passed. At least I wasn't cold and if anything I was warming up.
The carpet next to my knee shifted slightly and a hand started to undo the clasps at the back of my leather hood. Eventually the zip at the back was undone and the hood was slowly removed from my face. I instinctively closed my eyes as the lighting in the room that I was kneeling in blinded me momentarily. When I finally opened them I was in for a big surprise.
Mistress K stood directly in front of me and I opened my eyes to see her drop the leather hood onto the floor next to her. I looked up at her as she reached her hands each side of my face and removed the ear buds. She then stood up and stepped to the side.
I was knelt on the floor of a hallway with two closed doors to my left and a polished wood staircase on my right. Ornate wallpaper decorated the walls and two hanging lights illuminated the narrow space. An eerie silence made me feel uneasy until I looked toward the end of the hall.
Stood confidently at the end of the hall was another latex clad goddess. Wearing a black long sleeve latex catsuit that was unzipped down to the waist revealing a black lace bra covering her perky breasts, Mistress H held a leather crop in one hand with the other resting on her waist. A pair of metal heeled shiny black high heels raised her height significantly. Her long dark hair flowed over her shoulders and her immaculate eye makeup and lipstick took my breath away. My heart skipped a beat and I shuddered with delight at the sight of her. Was this really happening? I'd begged Mistress K on numerous occasions to ask Mistress H if she'd be interested in joining us for a play session and it has long been denied. It appeared that my begging had finally paid off. At that moment I was speechless. Not that I had a choice with the gag in my mouth.
The sound of heels clicking on the floor in front of me broke the silence. Mistress H was stalking me like a lion hunting its prey. She maintained eye contact with me as she reached down onto the floor and took the handle of my leash in hers. As she stood back up she turned her back to me with the tight latex perfectly sculpting her cute arse as she rose.
As I ogled the perfect goddess in front of me teasing me with her slender figure, Mistress K walked behind me and knelt down next to me.
"That's right. Look at her. Isn't she stunning? Would you like for her to play with you? I bet you would. You'd love to feel her stinging flogger on your arse and her cock fuck you until you cum all over yourself." I nodded my head eagerly.
"Maybe you'd like to feel me fucking your tight arse while she fucks your slutty mouth. Or I could just leave you here for a week to serve her in any way she pleases. She could have you locked up in her dungeon and use you whenever she likes. Maybe she'd piss all over you and make you massage her feet daily. Who knows what devious ideas Mistress H could come up with."
This was not what I was expecting or even considered where our evening might go. I was in shock and didn't react to anything Mistress K was saying. This didn't go unnoticed and a swift slap of her open hand against my inner thigh quickly broke my trance. I turned my head in her direction and we locked eyes as I winced from the slap.
"No. I don't think you deserve that honour. You need to earn that right. Actually, we had something quite different in mind for you this evening. Mistress H, shall we take him through?"
"Absolutely. Everything is prepared and ready exactly like we discussed."
The mystery texter had seemingly now been revealed.
"Up on your feet. Follow Mistress H. You'll follow closely behind her and from this point on if she tells you to do anything at all you'll obey her without hesitation. Do you understand?" I nodded my head up and down.
"Good. Now up you get. Don't keep us waiting."
I carefully got to my feet making sure that I maintained my balance. Having the handcuffs on made it more challenging, but I stood up straight just as Mistress H tugged on the leash pulling me forwards. Her tight arse wiggled as she opened and walked through the door at the end of the hallway. Her movement was hypnotising and I quickly fell under her spell as her hips swayed from side to side. Mistress K followed closely behind me and shut the door behind us once we'd all passed through.
We all walked down another hallway, but this one was much longer with doors on both sides. As Mistress H reached a door at the end of the hall she opened it and we all stepped inside a large room. Again, Mistress K shut the door behind us all.
The walls and ceiling were all painted black and tall lamps lit up each corner of the room. A beautiful rustic chandelier hung from the ceiling and a number of erotic portraits and photographs of dominatrix's with their slaves were proudly displayed on the walls. A selection of floggers, crops and whips in a variety of colours and lengths hung on hooks on the wall next to me. In the centre of the wood floor room sat a black metal fucking bench with leather padding and a waist high set of wooden stocks. A shiny silver metal spreader bar with leather restraints dangled down from the ceiling attached to a manual hoist that connected to a lever on one wall. At the back of the room I noticed a large red painted door.
"Follow me," Mistress H commanded in a very sultry and intoxicating tone.
She walked me over to the metal spreader bar hoist and stopped once I was standing below it.
"Would you mind restraining him while I lower the bar?" Mistress H asked Mistress K.
"Not at all," she replied as she dropped her bag on the floor and reached inside to find the keys to my handcuffs. Mistress H glided effortlessly in her huge heels to the manual hoist and with a few turns of the lever the spreader bar hung down against my shoulders, the cold metal making me flinch as it bounced off my naked skin.
Once Mistress K had unlocked and removed the handcuffs she lifted my wrists into place and strapped them into the velvety restraints, which was a welcome relief compared to the harsh handcuffs. She then turned to Mistress H and gave her a nod, which led to her turning the lever. My arms were hoisted up above my head and kept turning the level until I was up on my tip toes.
While Mistress K walked back to her bag on the floor I took a moment to enjoy the predicament I found myself in. I couldn't believe my luck. I was at the mercy of two stunningly beautiful and devious dominants and couldn't wait to see what they wanted to do with me. I could feel my body eagerly quivering and my cock aching to get loose of its cage. I was bursting with excitement.
Mistress K pulled the key to my chastity cage out of her bag and handed it to Mistress H.
"It's all yours for the evening. Do with it what you will." Mistress H looked at the key then looked over at me.
"I don't think I'll release him, but maybe if he earns it I'll let it out later. I love to ball bust my slaves. It's so much fun seeing a restrained slave with tears running down their faces. I sometimes put some eye liner on them so I can see the streaks run down their cheeks. It's also nice to put some bright lipstick on them when you ruin their mouth with a hard face fucking." She contemplated something for a moment then put the key inside her bra.
They both stepped forwards and stood directly in front of me facing each other.
"Oh yes. You could strap him into the stocks and fuck his filthy mouth with that huge dildo I spotted over there."
"I think I might, but I know we have other plans for his mouth," she said with a wink. "Before I have some fun with this one I'll go and get your toy out."
Mistress H turned and walked over to the red door, opened it and clicked her fingers. A tall, handsome, muscular naked man walked through the doorway with his huge cock swinging freely between his legs. He wore a thick leather collar and the shadows created by the room lamps cutting across his torso emphasised his toned body. He stood still after a few steps and Mistress K closed the red door.
"This is Mistress K. She's going to take control of you for the evening. You will do exactly as she says and please her in any way she desires. Once she's had her way with you we have something planned for us all. Now go and bend over the fucking bench and await your first instructions from her.
"Thank you, Mistress," he replied then walked passed me to the fucking bench behind me.
Mistress H had been in a female led relationship with her slave for a short time at that point. They'd fallen in love and their relationship had blossomed into a full time FLR. Only a few weeks before that night they'd moved into a new house together, which is where I found myself gagged, caged and hoisted up ready to be used and abused. Well, that's what I was expecting and hoping to happen.
Mistress K picked two floggers off the wall and strode past me to take control of her new toy. As she walked passed me she glanced in my direction and a mischievous smile broke out across her face.
Then we were alone. Well, somewhat. I turned my gaze towards the enchanting dominatrix in front of me. My feet wriggled as I adjusted my positioning to balance comfortably on my toes. Mistress H noticed my discomfort, moved quickly in close to me and started whispering in my ear.
"Well well. I'll bet you didn't expect to find yourself under my control tonight did you? I messaged Mistress K after discussing my idea with my slave a few nights ago. I've wanted to play with you for a long time and something I suggested perked her interest. You'll find out about that later, but right now I'm going to have some fun with you."
I stared into her captivating eyes then she grabbed my balls in her right hand. She sadistically squeezed them harder and I helplessly screamed into the ball gag. The louder I screamed, the harder she crushed. My wrists thrashed against the restraints and my feet slid on the floor trying to alleviate the pain with no success.
"These balls are mine now. That cock locked in the cage between your legs is mine too. I'd so love to unlock you and give you a couple of hard knees, but I worry that if I unlock my cock you'll get far too excited and I won't be able to get it back on again. Seeing me dressed like this would drive any slave crazy and we both know how much you've wanted this. Best to keep you locked up tight and play with your open holes instead."
Mistress H released her aching balls, spun on the spot with the poise of a ballerina and pressed her peachy arse right into my crotch.
"Just imagine if my cock was free from that cage. I could give you permission to get hard and I'd stroke it until you're ready to cum all over my latex arse. But I wouldn't give you permission. I'd let that throbbing cock go before you were able to cum and edge you over and over again. Who knows what I could make you do to earn an orgasm. I'd prefer to fuck it out of you.
Oh silly boy, you're not getting that tiny cock anywhere near my tight cunt, so get that idea out of your head. No, that won't happen, but I do see a use for your tongue. You know how much I'd enjoy sitting on your face and riding your tongue until I squirt all over you. Only once I'd been thoroughly satisfied would I strap on my thick cock and fuck your arse to orgasm. My slaves always clean up after themselves and I think making you suck your cum off my cock would be a suitable treat for you."
With each word she spoke the pain inside my chastity device grew stronger. I wanted it all and the cage was stopping me from enjoying it.
"Now that I've finally got you to myself, I'm going to warm you up a little before going hard on you."
If you're enjoying this story you can read part 2 here.