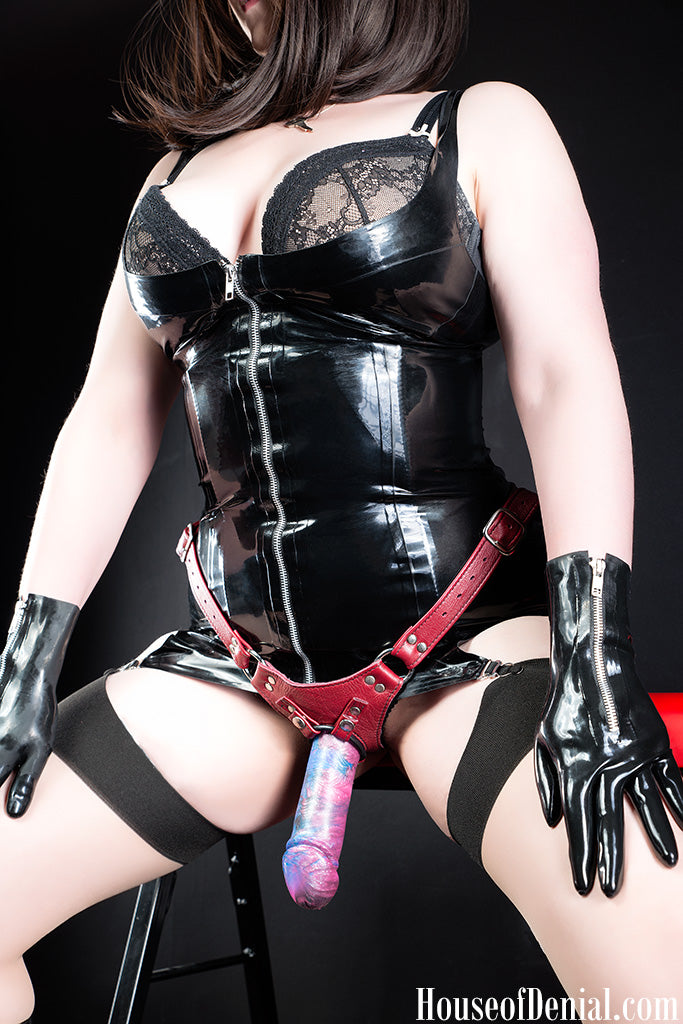 This is part 2 of our double Femdom and forced bi story. If you missed part 1 you can read it here.
Everyone involved in this story is a consenting adult over the age of 21.
Another few minutes passed and the familiar sound of clicking heels again filled the room. From my position I couldn't see what was happening behind me, but the sound was getting closer as each second passed. A hand slid between my arse cheeks and a manicured nail lightly scratched my aching ball sack. The pain grew slowly as a second then third nail dug into the tender skin. It took everything I could muster not to cry out, not wanting to disappoint my Goddess. In an instant, the nails stopped digging in and instead smoothly stroked my balls.
"It's been 2 weeks since I locked you in that chastity cage. I know you haven't pleasured yourself or cum as you would have told me. This pleases me greatly and the first time you cum will not be a pleasant experience as I'm going to ruin it for you. This also pleases me, and that's all that matters to you isn't it slave?" my Goddess asked. I nodded and dropped my head so that I was focused on the floor in front of me.
"Now, I'm going to unlock you from these stocks and you're going to crawl on your knees towards Mistress P. She's waiting for you over on the sofa. You're going to kneel in front of her and await further instructions" my Goddess softly whispered in my ear as the stocks holding my head and wrists in place were removed. Once the ankle cuffs were unshackled I dropped to my knees and crawled towards the sofa.
Once I arrived at the sofa I did exactly what I was told to do and knelt at her feet with my hands behind my back.
"Lean forward towards my beautiful shoes slave" Mistress P demanded. As I leaned forwards she rose from the sofa and placed her heeled foot on my head forcing it down to the floor. The feeling of complete domination and lack of control is a big turn on for me and having this stunning Goddess forcibly take control of my body drove me wild with excitement.
"Keep those hands behind your back" Mistress P shouted as I went to steady myself by placing my hands either side of my head on the floor. I snapped my hands back behind me and they were immediately cuffed together by my Goddess. The ankle cuffs were also locked together and I couldn't move without the cuffs inhibiting my attempts. Finally the gag was removed from my mouth and placed on the sofa.
"Now, you're going to clean our shoes with your tongue to earn the next treat of the evening. Honestly, I don't think you're going to enjoy it, but I don't care. I know your Mistress has wanted to do this to you for a long time and you're not going to disappoint Her."
I went to work lapping my tongue over Mistress P's red bottom shoes making sure that I didn't miss anything that could upset Her. My Goddess sat beside Her on the sofa and motioned towards Her shoes once I'd finished. If I didn't get down far enough on the heels Mistress P pushed my head down further with Her heeled foot. It was a very desirable dynamic and all that I'd hoped for from a double domme session. A high heel was then pushed inside my mouth and I was encouraged to suck it like a cock, whirling my tongue around the shiny heel until it was deep inside my throat.
"He'd make a very good cock sucker wouldn't he" Mistress P asked. My Goddess smiled and nodded with pride as she'd trained me on numerous occasions to take her strap-on cock deep in my mouth. Mistress P laughed and rose up onto her feet from the sofa before walking behind me into the dungeon.
"I think it's time" she said as she walked away.
"I can't wait" my Goddess said with excitement. Whatever they'd planned was about to happen and I had a few ideas what it might be. Nothing prepared me for what they really had organised.
My Goddess stood up and walked over to a wall behind me. A number of sounds behind me filled me with intrigue but gave me no solid indicators as to what was happening. My body shook with excitement and I squirmed against the restraints holding me in place.
"Time for you to come out of the cage slave. Once you're out you'll stand and go over to the St Andrews cross." Mistress P instructed someone. Another person was in the dungeon with us. That confused me straight away, but I kept focused and tried not to over think the night ahead.
My Goddess unlocked the clips between my ankle and wrist cuffs and I rose to my feet after being instructed to do so. She now wore a thick leather harness and strap-on cock between her legs. The combination of the catsuit and harness was mind blowingly attractive and she looked like a powerful dominatrix ready to fuck.
"Are you ready Mistress P" my Goddess yelled towards the dressing room.
"Yes Mistress T" she responded as she walked out of the dressing room. The latex skirt was gone, replaced with a black latex thong and a strap-on harness and cock. The red silicone cock hung invitingly between Her legs and I was very keen to show off the cock sucking skills I'd been trained in over the last 2 years.
"On your knees and crawl behind me" was the order from my Goddess. I did as she commanded and I slowly crawled behind Her matching Her pace. It was deliberately slow and only fuelled my anticipation for what was coming. Were they going to spit roast me with Their cocks? I hoped so, but what was going on with the other person?
"Arms and legs apart" Mistress P shouted. The sound of straps and buckles is unmistakable and I immediately realised that whoever Mistress P was currently dominating was being fixed to the St Andrews cross.
We continued to move in that direction with the latex clad legs of my Goddess and Her newly cleaned shoes teasing me as they walked ahead of me. Moments later we arrived at the St Andrews cross. My eyes remained fixed on the floor.
"Stand up slave" my Goddess demanded. I rose up, maintaining eye contact with the floor.
"Open your mouth" she ordered and as I opened it wide a rubber lips gag was pushed into my mouth and locked with the attached straps around my head. This time I heard a padlock snap shut to lock it in place. No way I was going to be able to remove it without the key, which my Goddess added to the chain hanging around Her neck that also held my chastity cage key.
"You look like the perfect slut. Now, I've trained you to be a cock whore during our sessions together. You're now going to put those skills to good use. Instead of my rubber cock, it's going to be a real one this time." Both Mistresses smiled and laughed with glee. I was in shock and I couldn't stop looking at the floor. My Goddess reached Her hand under my chin and directed my focus toward the St Andrews cross.
Strapped to the cross was a very muscular man who was dressed head to toe in black latex. He wore a black latex catsuit with feet covered and a black leather gimp mask with a zippered mouth. The zip was currently open revealing a ball gag secured tightly in his mouth. My heart dropped and I thought I felt Her cock between my legs shrink up in embarrassment.
"Ohhhh, he looks shy" Mistress P said before laughing hysterically. "Maybe this will help" she said as she unzipped the catsuit between Her slaves legs revealing his flaccid cock. She toyed with it using her latex covered fingers and he soon got semi-hard.
"Get on your knees slave" my Goddess commanded. I was frozen looking at his cock and completely missed the demand from Her.
"I'll make this easier for you" she barked with intensity and gripped my exposed ball sack between Her fingers. I dropped to my knees and before I had a moment to recover the ankle and wrist restraints were locked together. I couldn't think or move. My head swirled with conflicting thoughts. Drool flowed out of my gagged mouth and pooled on the floor below me. I didn't expect this at all.
"Look at me slave" my Goddess whispered in my ear. I was fixated on Mistress P stroking his cock with Her gloved hand. I felt a mix of jealousy at the pleasure he was receiving and embarrassment at what I'd been ordered to do.
"You have 5 seconds to put your slutty mouth on that cock or I'm going to do it for you" Mistress T whispered. I looked up at her, my perfect Goddess smiling down at me. She'd talked about doing this to me for a while, generally during our blow job lessons, but I always thought it was a teasing threat. Never did I expect to be doing it for real. Mistress P took a condom from a table beside Her, tore open the wrapper with Her pearly white teeth and rolled it onto Her slaves cock.
"5.....4.....3...."
I turned my head toward the still semi-erect cock a few inches from my face and felt my eyes bulge. Mistress P reached up and pulled the zipper across his mouth as the slave before me began moaning.
"Nobody cares what you think about this slave" Mistress P said with delight. She then turned Her attention towards me.
"Well, what are you waiting for?" she said with anticipation.
"2.....1....."
I had a decision to make. Did I lean forward and....
As I began to think a hand grabbed the o-ring on my collar and forced it toward the throbbing cock. Mistress P took Her slaves cock in Her hand and guided it between the hole in my gag and my Goddess held the collar still. With Her other hand she reached around and pushed my head onto the cock that quickly engulfed my mouth. I instinctively tried to pull my head back, but each time I tried to move backwards the Goddesses forced me back onto the cock. With each thrust forwards both Goddesses laughed and got more enthusiastic. They loved this and I suddenly realised my placed. I was a fuck toy for Mistress T and here to be used by Her in any way she wanted to please Her.
I gripped onto the heels on my feet behind me and let them take complete control without resisting. With each thrust forwards Mistress P's slave's cock got harder and it filled my now willing mouth. Just like Goddess had taught me, I worked my tongue around his shaft and head when the opportunity afforded me the chance.
"Good boy" my Goddess yelled with excitement as I bobbed my head rhythmically. Without realising it my Goddess released Her grip on my head, put on a pair of latex gloves, squirted some lubricant onto the gloves and slipped a finger inside my tight ass from behind. When her second finger slid in next to it my eyes bulged and Mistress P smiled at the sight.
"I think he enjoyed that" she commented and my Goddess worked Her way expertly towards my prostate.
"No cumming without permission" Mistress P said looking at her slave. "That goes for you too" she said turning in my direction as she forced my face onto the cock again. I felt less resistance behind my back and realised that my Goddess had released the clips holding my ankle cuffs together.
"Don't stop sucking that cock until you're told to do so. Mistress P, feel free to use that filthy mouth in any way you like. You have my express permission to do with it what you will."
"Oh I will. For now I think he needs to get more practise on this cock before we do anything else" she responded.
As Mistress P forced my face down onto the now fully erect cock in my mouth I felt myself being penetrated from behind. My Goddess now had Her strap-on cock inside me and began to thrust Her hips upwards, fucking me deeper with each movement. I was getting spit roasted, but never in the manner I would have expected. The pleasure was immeasurable. I could hear that joy and excitement in the Goddesses cries and it was music to my ears. Hearing your own Goddess respond favourably to your servitude is very gratifying, but to hear it from two Goddesses is something else entirely.
A few moans escaped the gagged mouth of the slave above me. His hands clasped the cross and his legs tightened.
"Oh no you don't" Mistress P screamed at him just as he shot warm cum into the condom inside my mouth. She jerked my head back, slid the condom off and proceeded to slap his cock with Her hand severely. He writhed around against the restraints and shrieked in agony. I'd experienced ruined orgasms like that before and it was excruciatingly painful. It reminded me that I might still have this to come later in the evening.
My Goddess continued to thrust Her cock deeper inside my ass and it made Her caged cock between my legs twitch and flop around. Mistress P now stood in front of me and looked over my shoulder at my Goddess. She winked, gripped my head with her right hand, guided her strap-on cock between my gagged lips with her left hand and forced it into my mouth before thrusting deeply inside my mouth. The feeling of both Goddesses inside me was oddly relaxing and I started to get very eager to please. I'm not much of an exhibitionist, but in this moment I wanted to do everything I could to please them both.
My Goddess put Her hands on my shoulders and fucked me harder and faster with each thrust. Her cock pounded against my prostate and pre-cum flowed from the end of the cock cage onto the floor. Mistress P noticed, pulled Her cock out of my mouth, knelt down beside me and coated Her rubber cock with the pre-cum. She then stood back up and sauntered over to a whipping bench covered in restraints.
"Could you bring him over her please Mistress T" she requested and my Goddess obliged. She pulled Her cock out of my ass, stood me up and pulled me towards the bench. While I stood next to the bench my Goddess unlocked the wrist cuffs and put a leather harness across my chest over the latex catsuit. She then forced me onto the bench with my legs spread and the Goddesses proceeded to restrain my wrists and ankles to the soft leather bench. I was now exposed behind me and my mouth was still gagged with the hole between the rubber lips offering the perfect mouth fucking opportunity.
"You made a mess on Mistress T's perfectly clean floor over there. Now you'll clean it up" said Mistress P as she thrust her pre-cum covered cock in my mouth. I lapped it all up without hesitating using my tongue while my Goddess again entered my ass from behind. I heard a click behind me where my Goddess had attached the leash I wore easier to a D-ring on the harness. She pulled on the leash allowing Her to get some better grip and fucked my ass harder. I looked up at Mistress P fucking my mouth and she smiled back at me before ramming Her cock further down my throat.
"Isn't he a good boy taking cock like that?" Mistress P said to my Goddess. "He's taking my cock very well right now too. I think I'll have a go at his ass too if that's acceptable to you Mistress T" she questioned.
"Please do Mistress P" was the response as both Goddesses pulled out, replaced the condoms on their cocks and swapped ends. Mistress P entered my now gaping ass and fucked me with such precision that the dildo rubbed my prostate with each thrust. My stomach was spinning, almost like I was winded and the feeling of wanting to cum almost became overwhelming.
My Goddess now stood in front of me, her latex clad body a sight to behold. She towered over me in Her high heels and Her cock flopped right in front of my gagged mouth. She reached down, unlocked the lips gag and threw it onto the floor. With a harsh tug on my hood she forced Her rubber cock deep into my mouth, holding it for a few seconds so I'd gag on it. In the few seconds that she removed it I gasped for air before she penetrated me again, holding it for increasing amounts of time to test me.
"You've taught him well" Mistress P said with admiration. "Shame that useless slave of mine has failed to perform this well tonight," she said with disappointment and disgust in Her tone. She pulled out of my ass, walked over to Her slave, unzipped the mouth hole in his hood, pulled the gag out of his mouth and tipped the contents of the condom into him.
"You pathetic loser. You couldn't even follow some very simple instructions. I unlock you from your chastity cage for one evening and you can't help but cum into that fuck toy over there. It's fine, I think I'll keep My cock locked up for another month on top of the original agreement as punishment." She then pushed the gag back in his mouth and zipped the mouth of his hood shut.
"We had planned on fucking you like the filthy slut that you are too, but you don't serve to be rewarded after that performance" Mistress P barked and turned back towards me.
"Instead you can watch as we use this cock whore" she mocked as she strode towards me with purpose. After a quick squirt of lube onto Her strap-on cock she entered my ass again, gripping my harness in one hand and fucking me aggressively, all 7 inches of Her cock filling my throbbing hole. This continued for the following half an hour with both Goddesses taking turns to fuck my ass and mouth.
"I think it's time that this slave gets a reward. Hasn't he performed beautifully," my Goddess announced.
"Absolutely. Do you want to do what we discussed?" Mistress P questioned.
"Yes. Exactly what we discussed," my Goddess responded.
Both dominants pulled their cocks out of me and my Goddess slid Her fingers inside my ruined asshole. She quickly rubbed on my prostate and Mistress P reached Her gloved hand between my legs.
"You're now going to cum for us slave. Your chastity cage won't be unlocked. Instead, you'll cum in that cage and Mistress P is then going to feed it to you. Do you understand?" Mistress T questioned.
"Yes Mistress" I replied, desperately not wanting to disappoint them after an extraordinary evening of play and first time experiences.
In a matter of seconds I felt very light headed, my stomach twisted and two weeks of stored up cum spurted out of Her cock into the latex gloved hand of Mistress P. The relief was momentarily magnificent and my head slumped onto the bench below me.
"Not so fast slave" Mistress P purred before gripping my empty sack in her other hand and squeezing it between her nimble fingers. I'd completely forgotten in the euphoria of the moment that I'd been told my orgasm would be ruined and I screamed in pain. Both Goddesses laughed and seemed to enjoy the agony I was now in.
"We're not done yet" my Goddess proclaimed as both dominant women got up and stood in front of me. My Goddess put on a fresh latex glove, took some of the thick cum from Mistress P's gloved hand and they both fed the cum to me from their fingers. I lapped my tongue around their hands and felt utterly humiliated. The look on their faces was some consolation though as they beamed with happiness, the smiles on their faces giving me a huge sense of pride.
"You weren't wrong Mistress T. If you don't mind, I'll come and use this slave with you again in the near future."
"Anytime Mistress P" she replied.
"I'm going to remove the restraints and you're going to crawl back into the dressing room. Get changed back into the lingerie you wore to get here then leave when you're ready. I'll see you again this time next week. You've made me very happy this evening, but I have another session in an hour and need to take some time to relax."
The leather restraints holding my wrists and ankles to the bench were unclipped, I nodded my head in appreciation to both Mistresses and crawled towards the dressing room, closing the door behind me once I'd entered it. I slumped on the floor for a few minutes completely exhausted and full of positive energy. It was an incredible experience and one I hope to experience again in the future.
Thanks for reading and we hope you enjoyed the story. We've got many more on our blog, which you can check out here.
Let us know your thoughts on the story in the comments below and if you'd like to order yourself or someone else a new cock cage you can order a chastity device here.